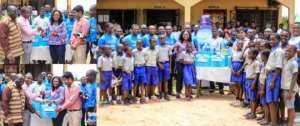 The Management of Voltic Ghana Limited, in partnership with Jaldhaara Foundation, has provided support to the Adeiso SDA Basic School under the 'Water for Schools' Programme.
The support will enable Voltic and its partner to provide treated drinking water to school children on daily basis of between 10 and 15 gallons depending on the number of children in the school.
As part of the support, Voltic Ghana Limited presented water bottles and exercise books to the children.
Mrs Joyce Ahiadorme, the Public Affairs and Communication Manager, Voltic Ghana Limited, told the Ghana News Agency that the Company's 20,000 dollars investment in 'Water for Schools' Programme confirmed its commitment towards the United Nations Sustainable Development Goal Six.
She said the partnership with Jaldhaara Foundation was to provide clean drinking water to the children to reduce water borne diseases.
Mrs Ahiadorme said; "The partnership is to provide potable drinking water to schools in water stressed communities, while creating awareness on sustainable use of water".
She said the investment of 20,000 dollars would be used to provide water for 2000 school children in five schools across the country in deprived communities.
She said the Company was committed and passionate about supplying clean, safe, and quality drinking water to school children.
'Our aim is to take care of school children's thirst, while the pupils thirst for academic excellence,' Mrs Ahiadorme said.
'Voltic will continue to partner other organisations to find sustainable ways to improve the livelihood of its customers, suppliers and employees, while championing on 'women empowerment, water and waste management'.
Mr Shambho Komar, the Country Head, Jaldhaara Foundation, said the organisation engaged in the provision of clean and potable water to under-served communities.
He said the partnership with Voltic Ghana Limited would provide water to selected schools in the Ashanti, Eastern and Greater Accra regions.
Mr Komar commended management of Voltic for the partnership to help reduce water borne diseases in the communities.
He urged the pupils to take their studies seriously, adding: 'There is no limit to what you can achieve in life'.
Mr Seth Somuah Mireku, the Head Teacher of the School, commended management of the two organisations for the support in promoting clean water use in the School and the communities