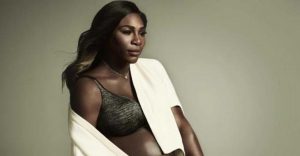 Pregnant Serena Williams danced the jitterbug as she was treated to a 1950s themed baby shower.
The seven-time Wimbledon winner, 35, wore pearls and a poodle skirt as she partied with Destiny's Child star Kelly Rowland, 36, singer Ciara, 31, and actress Eva Longoria, 42, in Florida.
She was joined by sister Venus Williams, 37, who came dressed in polka dots at the event, dubbed the 'Baby O Diner' in a nod to her partner, Alexis Ohanian.
The tennis star, who is eight months pregnant, revealed her blossoming bump in a new photo shoot for Stellar Magazine, baring her athletic figure in a pink silk coat.
Serena discussed her views on feminism that she hopes to pass onto her unborn baby.
She said, "There are barriers I hope to break so my baby, whether boy or girl, won't have to live under those stipulations
"I definitely am a feminist. I like to stick up for women and women's rights.
"So many things happen and I just think 'Wow, why don't we have a chance?'
"If that makes me a feminist, I am proud to be one."
– The Sun, UK