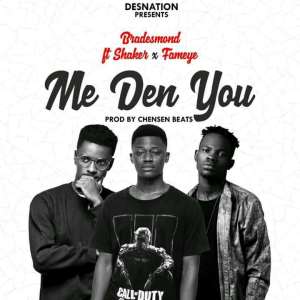 Picking the right song to get your partner closer to you is apparently "ME DEN YOU" — one of the greatest songs from Bra Desmond that can do wonders for your love life. In fact, it can be the deciding factor between you and your partner.
Bra Desmond with artistic gifts expressed his deep affections and inner feelings in the combined form of lyrics, rhythms and melodies to create this romantic tune.
"My sole objective for this song is to spice up relationships where lovers can get attached to each other".Bra Desmond stressed.
A song produced by Chesen Beats and have great artistes on it like SHAKER and FAMEYE is with no doubt that it going to be an irresistible tune.
This song is slated to be released on 1st May 2018.
We promise to give you update on the song
Thank you