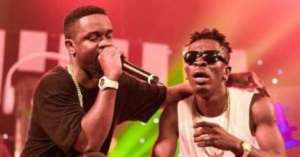 October 10, 2018, will go into the Ghana music books as a day dancehall artiste Shatta Wale will never forget, or so social media thinks.
Ghana's fastest rapper alive, Sarkodie unleashed some built up fury in his musical guts with a freestyle titled 'My Advice'.
For what looked like a title that had some words of wisdom, Sarkodie wasn't that kind in the diss song to Shatta Wale, something listeners figured a few seconds into 'My Advice'.
Sarkodie did well in his flow, lyrics and presentation in the diss song instantly hitting the top of the trends in Ghana.
The next step was, what would Shatta Wale do?
Sarkodie and Shatta Wale
Fans across social media are expecting a reply from Shatta ahead of his album launch. The dancehall artiste has not had any significant direct reply to Shatta Wale.
A post spotted on his Twitter page seem quite funny considering what's expected of the musician who has basically beefed every single artist in Ghana.
In a post displaying an attire with the REIGN design, Shatta Wale wrote 'Get yours!!! #Thereign'.
Did Sarkodie just turn Shatta Wale from musician to fashion designer?
It's highly probable that promotion for Shatta's album launch is heating up. But what fans are expecting is a reply, not a promo for a clothing line.