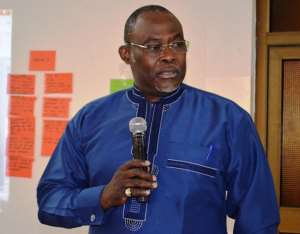 Dr. Ekwow Spio-Gabrah has urged members of the main opposition National Democratic Congress to vote for a presidential aspirant who can serve two presidential terms if the party wins power.
The comment comes as former President John Mahama, who per Ghana 's constitution, has just one presidential term to serve, appears to be eyeing the party's presidential ticket again.
Spio-Gabrah who was trade minister under Mahama said his quest to be president was triggered by several leaders he worked with in the past, including the late John Mills, who died in office as President.
Speaking to Francis Abban on the Morning Starr Thursday, the former Communications Minister said he has been told by different leaders that his passion for the country will make him a better leader for the country.
"All those who have worked with me in one way or the other have asked why I don't have Presidential ambitions. To them, I have something to offer. The late President Mills on a number of occasions suggested that I become a leader one day. President Mills said in 2003 said, "When I become president in 2004, Ekwow Spio-Garbrah will be the first person I will appoint as Minister. He told me in the presence of others that if at any time he can't continue with the Presidential race, I was the only person, he would have supported if I decide to run for the presidential race," he said.
He further noted: "The NDC needs a presidential candidate who can lead the party to rule 2 terms in office. I joined the Central Region Unity Walk. One is not obliged to join unity walk in other regions. At least I joined the one that happened in my region. Some have gone to Unity Walks for Exercise, others go because of other personalities. "There are some who join the walk to see other members of the party and engage them in a way or the other. I think it is good that Ex-President Mahama is still available and is making time to help unite the party through the unity walks"