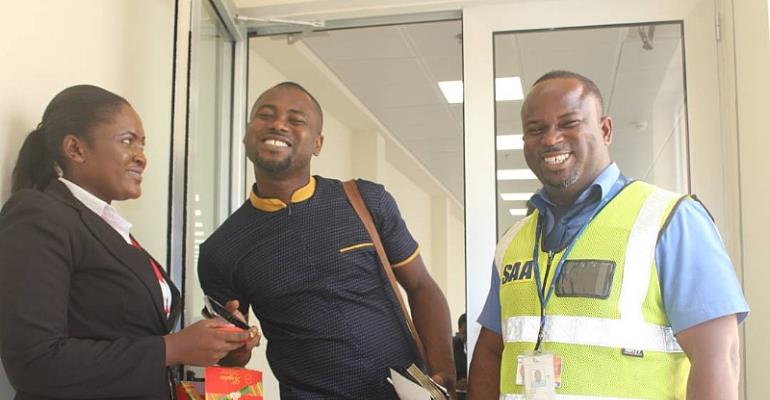 Staff of Ghana Airport Company Limited have presented gifts of Assorted Ghana made chocolates to versatile radio personality and CEO of Kaya Tours Abeiku Aggrey Santana as part of the National Chocolate Day celebration.
14th February is a day set aside in Ghana to create awareness and increase consumption of locally made cocoa products especially chocolates.
Speaking in an interview with a staff of Accra international airport , Mr Robert Lartey told Attractivemustapha.com that they are giving out chocolates to all passengers who use the Airport on every 14th February.
According to him, the management of Ghana Airport has taken this initiative to promote made in Ghana products.
Abeiku Santana was very elated about the gesture and commended the Staff and management of the Kotoka International Airport for such a fascinating move to market what Ghana has to the world.
Indeed the Minister of Tourism Arts and Culture, Catherine Afeku at a recent media briefing outlined plans to repeat the distribution of locally produced chocolates at the airport to mark the day.
"As an entity, we decided to give each and every person boarding, entering, embarking or arriving in Ghana for the first time, the world acclaimed brown chocolate of Ghana. The initiative was massively received and we intend to repeat it on the 14th of February under the theme, "Eat Ghana, Eat Chocolate,"
Attractivemustapha.com