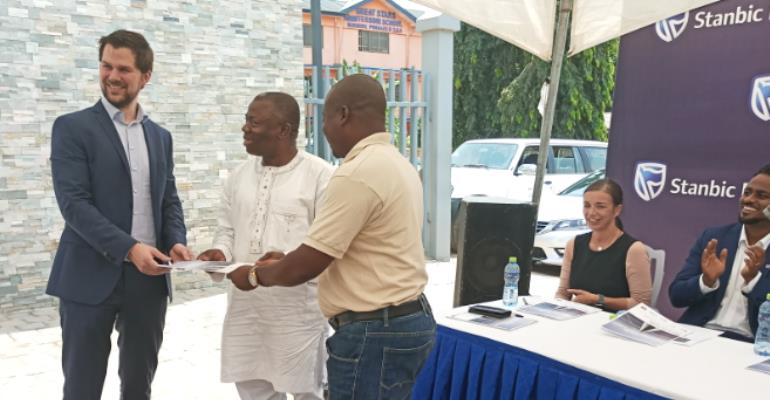 Stanbic Bank has led the way with an installed capacity of 40kWp solar energy at its three branches to power its business operations.
The three solar power systems, 20kWp, 10kWp and 10kWp will cut down 30percent of its electricity cost at the Dansoman, Kasoa and Tema branches respectively.
Speaking at the inaugural ceremony in Accra, the Chief Executive Officer of Stanbic Bank Ghana, Alhassan Andani said they are leading the way in sustainable banking by harnessing the potential of renewable sources of energy to operate their business.
He noted that even though 70percent of their total electricity is still required from the grid to keep businesses running, it makes sense to both the customers and management of the bank to cut its electricity cost by 30percent.
"We are proud to be running our bank on solar energy and hope to lead the way for other businesses in the country. The three projects provide us with clean power, bringing us closer to a more sustainable future. Stanbic Bank Ghana is committed to conducting its business in a socially, environmentally and financially responsible manner: using renewable energy is a vital step in this," he stated.
Mr. Andani indicated that only certain aspect of their banking operations will run on solar so that in an event of power fluctuations, normal banking activities will remain uninterrupted using solar energy at very cheaper cost.
The CFO of ecoligo Markus Schwaninger noted that working with experienced partners ensured that their solar projects are implemented professionally and safely and are built to last.
He added that as one of the first of their projects in Ghana, it creates a strong blueprint for future projects and they look forward to completing many more in Ghana this year.
The project was implemented by German company ecoligo GmbH together with its partners SMA Sunbelt Energy GmbH, Yingli Namene West Africa Ltd and NorthLite Solar Ltd and was supported by the Renewable Energy Solutions Programme from dena, the German Energy Agency.
ecoligo's fully-financed solar-as a service solution allows companies like Stanbic Bank to access renewable energy while continuing to focus their resources on their core business.
The project was executed in conjunction with SMA Sunbelt Energy GmbH, who provided high-quality components from renowned German inverter manufacturer SMA Solar Technology AG and was responsible for the component procurement from Germany.
Yingli Namene West Africa Ltd was responsible for the engineering and construction of the project and NorthLite Solar Ltd was working with ecoligo on the project development from the beginning and performing installation services.