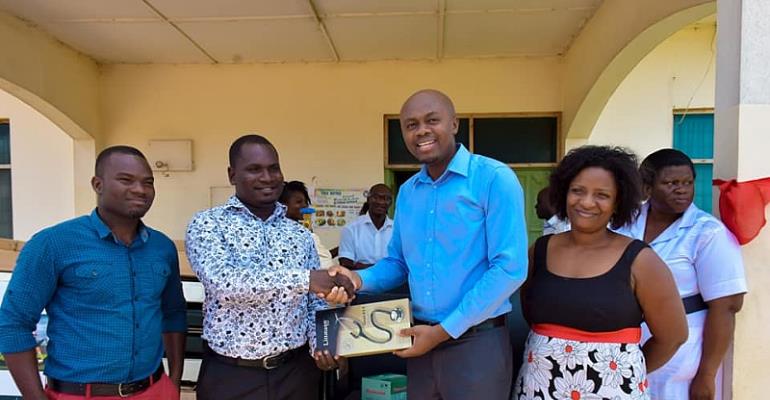 A youth group in Tema New Town has been able to raise an amount GHC12,700 to support the Tema Manhean Polycinic.
The polyclinic operates under the Ministry of Health, and it is the only health facility serving the whole of Tema Manhean, a densely populated town.
But for some time now, the facility has been in dire need of various operating tools and structures.
The only toilet facility in the polyclinic currently serves both males and females with pregnant women reportedly queueing to attend nature's call.
When it is time for them to be delivered of their babies, some of them have to lie on the bare floors as there are not enough beds to use.
In fact, patients are said to be sharing the same ward regardless of their age or gender.
Following this worrying development, the youth group, led by a teacher, Owula Joshua Mantey, decided to raise funds to support the health centre.
In an interview with Modern Ghana, Owula Mantey, a basic school teacher, revealed that the plight of patients at the polyclinic is what drove him to embark on the fund raising project.
According to him, many people who have visited the health center lament about the poor conditions there which in a way make their cases or reasons of visiting rather worse.
Owula Mantey further indicated that the 'no-bed syndrome' that has hit many health facilities in Accra, especially the Korle-Bu Teaching Hospital, he was prompted to organize the youth to do something to alleviate the plight of the patients.
He stated that waiting on the government to support all hospitals in Ghana with beds would not see the light of the day because that would not be realized anytime soon.
Owula Mantey added that he felt social media and messaging platforms could be used for useful purposes, therefore, he toyed with the idea of raising funds via his Whatsapp status to support the polyclinic and it turned out to yield results.
"I actually thought of which way we could support the polyclinic. I started with the first sum of five hundred cedis, and my wife, Maame Pokuwaa, also contributed with the sum of two hundred cedis".
"I made a continuous announcement via my Whatsapp status and many of my fellow youths in Tema New Town donated various sums. After ten days, I was able to raise GHC12,700 for the project," Owula Mantey narrated.
From the proceeds, Owula and Mantey and his team, on July 10, 2018, donated items including one adjustable delivery bed, three hospital beds, one big oxygen cylinder, seven swivel chairs , two couches for the consulting room, 32inches flat screen television and a stethoscope, were donated to the hospital.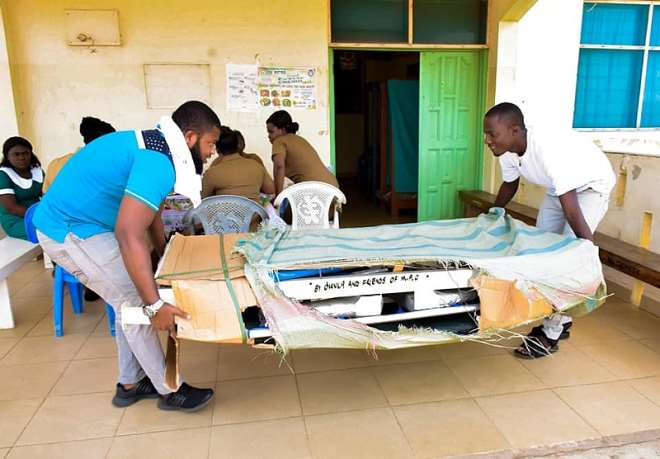 Prince Amarh (in White) And Another Youth Of Tema Conveying The Strecther To The Polyclinic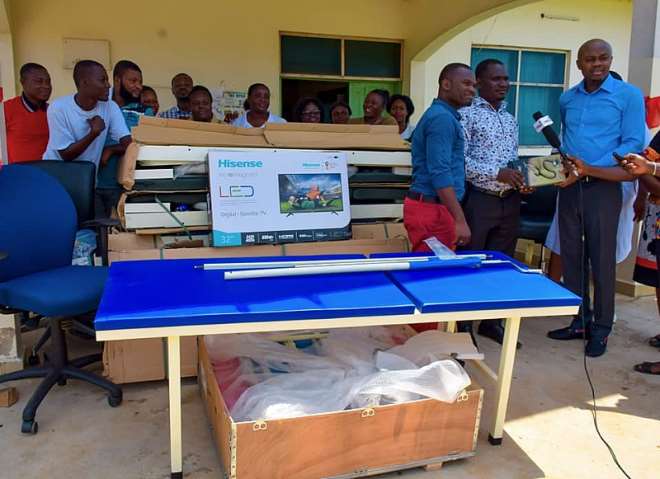 The Items Ready For Donation