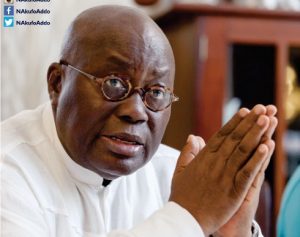 The New Patriotic Party (NPP) Presidential Candidate says he is confident President John Mahama will do the honourable thing by conceding defeat in the presidential election.
Nana Addo Dankwa Akufo-Addo says the President is a proud patriot who will not allow the country to be plunged into chaos over the election results.
"The John Mahama I know is somebody I believe is capable of rising to the occasion," he said.
The three-time NPP flagbearer made these remarks during an interview with Joy News' Elton Brobbey at his Nima residence in Accra where the rank and file of the party are reveling in an impending victory for the presidency.
Projections by media houses including Joy News put Nana Akufo-Addo ahead of President Mahama.
Out of the results of 262 constituencies collated by Joy News, the former Attorney General polled 53.59 percent of the valid votes cast as against 44.63 percent for the incumbent president.
The other five presidential candidates have called Nana Akufo-Addo to congratulate him for his victory.
They include Presidential Candidates of the National Democratic Party (NDP), Nana Konadu Agyemang Rawlings, Progressive People's Party (PPP), Dr Papa Kwesi Nduom, and People's National Convention (PNC), Dr Edward Mahama.
The rest are Convention People's Party (CPP), Ivor Kobina Greenstreet, and Jacob Osei Yeboah, an independent candidate.
Some political pundits have wondered why President Mahama has failed to concede the election in the face of figures that point to his defeat.
But Nana Akufo-Addo says the President will call him to concede when he is convinced of his defeat in the polls.
"I believe that he [President Mahama] is capable of meeting those responsibilities and working to bring our country together and ensuring the peace and stability of our country," he said.
The NPP leader said the nation is living in a "very tricky moment" and it is important the peace Ghanaians are enjoying is not compromised.
He urged supporters of the various political parties, general public and leaders of the country to live up to expectation.