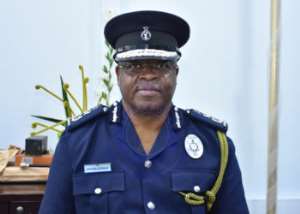 The Chief Executive Officer of Literacy Ambassadors Ghana, Mr. Mathias Tulasi, has condemned the police administration for what he described as selective justice in the application of law made for all Ghanaians concerning the compulsory wearing of nose masks in order to prevent the spread of COVID-19.
His full statement below
The escalating figures of COVID-19 confirmed cases are a worry to all Ghanaians and hence the need for all of us to adhere to safety protocols as outlined by the government.
President Nana Addo told the entire nation that henceforth, people who fail to wear nose masks in public would be committing an offence that carries a prison sentence of 4 to 10 years or a fine of GH¢12,000 to GH¢60,000, or both.
This was contained in a new Executive Instrument (E.I. 164) signed by President Nana Addo Dankwa Akufo-Addo on June 15, 2020, as part of measures to curb the spread of the coronavirus disease (COVID -19).
Thus we were made to understand would be in force for three months and shall apply to all parts of Ghana.
It was therefore surprising seeing wanton disregard for the COVID-19 protocols – social distancing and no wearing of nose masks by activists of the governing New Patriotic Party (NPP) at their just ended parliamentary primaries which took place last weekend.
A lot of NPP activists were without nose masks but the police officers on duty could not arrest a single person.
Surprisingly, just this Tuesday police officers arrested 40 persons in Accra for non-compliance with mandatory wearing of nose mask directive.
Is it the same police administration that never arrested a single NPP activist for the same offence at the just ended NPP Parliamentary Primaries?
This is pure biasness, sign of selective justice and highly hypocritical on the part of police administration.
It is important to state that Justice must be for all manner of persons.
As a nation, we have one constitution. There shouldn't be different law governing NPP members and another law governing others.
It is very evident that if we want to develop as a nation, it will start with the independence of our institutions including the police service.
No government should be seen as the enemy of some people and a friend to others.
Now that the police has gone ahead and arrested some citizens for going against the law concerning compulsory wearing of a nose mask, they should do same for those NPP activists who breached the same law just last Saturday because there are a lot of videos and pictures available to that effect.
The government should rather think of providing enough nose masks to the police officers to distribute to those found without it.
I am also by this statement calling on all Ghanaians to make it a point to wear their nose masks whenever they are going out to town because it will largely help prevent the spread of COVID-19.