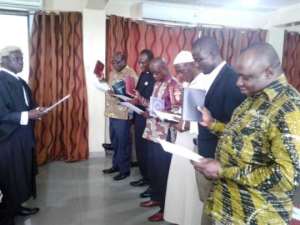 Alhaji Sulemana Alhassan, Upper West Regional Minister, has called on the public to disregard false claims of HIV cure especially by some herbalists and self-styled prophets.
He also appealed to all to believe that the best treatment for HIV currently was the Antiretroviral (ART) medication adding that 'no one who is HIV positive should be fooled into abandoning his or her medication'.
The Regional Minister said this in a speech read on his behalf by his Deputy, Mr Amidu Chinnia Issahaku, during the inauguration of the Upper West Regional Committee of the Ghana AIDS Commission (GAC) in Wa.
Alhaji Alhassan said even though the Ghana AIDS Commission Act 2016 (Act 938) outlawed stigmatisation and discrimination, the canker still persists and called on all to become agents against discrimination.
He said the Ministry would continue to work closely with the Technical Support Unit (TSU) of the GAC and her partners such as Ghana Health Service, Network of Persons Living with HIV (NAP+), the media and the Metropolitan, Municipal and District Assemblies (MMDAs) to strengthen the regional response to HIV and AIDS.
These efforts, he said, has yielded some positive results, noting that every district in the region now had an ART centre delivering HIV and AIDS services to the people.
'Similarly, the HIV prevalence in the region has reduced significantly from 2.5 percent in 2016 to 1.3 percent in 2017 according to the HIV Sentinel Survey (HSS 2017)', he said.
'These positive results are only a call for more work not complacency if we are to achieve our Regional objectives which are in line with the global goal to end AIDS as a public health threat by the year 2030', he said.
He said the achievement of targets set by the GAC could not be achieved by any single person or organization and that it must be a shared responsibility.
Immediately after the inauguration, Justice Baah Forson Agyapong, the Wa High Court Judge swore into office seven of the members present out of the nine member committee.