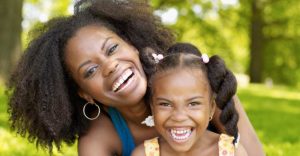 Erica Wyatt is a single mother of four children and knows at firsthand that raising your children alone is one of the most difficult challenges that you will ever face in life.
She shares 4 lessons on familyshare.com, to help other single mothers.
You are never alone.
All too often the enemy comes to bring discouragement by telling you that no one understands your struggles and you are all alone in your quest to raise successful children.
The word of God lets you know that God is ALWAYS with you. No matter what challenges you face or how hard things get in your life, always remember that God is walking right beside you.
Deuteronomy 31:6 – Be strong and courageous. Do not be afraid or terrified because of them, for the LORD your God goes with you; he will never leave you nor forsake you."
2. God cares about you and everything that you go through.
Another battle that we fight in our minds as single mothers is that no one cares about our daily struggles. Yes, it is true that it seems as if everyone is caught up in trying to achieve success in their own lives and could care less about your hardships.
I want to encourage you that if no one else cares, God cares about you and your children. He sees you and He cares about what you are going through.
1 Peter 5:7 – Cast all your anxiety on him because he cares for you.
3. God has a plan for you and your children.
It is so easy to get caught up in the everyday challenges of life and feel as if you are going nowhere. I have been there and have often times felt as if I would be consumed by my struggles and hardships.
When I find myself feeling like I will never accomplish my goals, I quote Jeremiah 29:11 out loud. God has a plan for you, and He has a plan for your children. You will accomplish everything that God has designed for your life. It is going to be OK!
Jeremiah 29:11 – For I know the plans I have for you," declares the LORD, "plans to prosper you and not to harm you, plans to give you hope and a future.
4. Train your children to love God and they will thrive.
One of your greatest desires as a single mother is to see your children turn out successful and thrive in life. My prayer has always been, "God, never allow my children to struggle the way that I have in life." I have always found comfort in knowing that I trained my children to love God.
In a world that is filled with mixed messages, it is important to train your children to follow after God and to walk in His ways. If you do this, you can walk in assurance knowing that God will bestow favor and blessings on your children all the days of their life.
Proverbs 22:6 – Train up a child in the way he should go, And when he is old he will not depart from it.