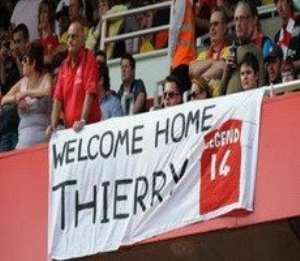 Thierry Henry had a highly successful playing career and could now take on his first managerial role, back where it all began.
The former France forward, a 1998 World Cup winner, scored more than 400 goals and won every major club honour, and has been linked with the vacant Monaco job, with Leonardo Jardim sacked following a poor start to the season.
BBC Radio 5 live's Euro Leagues Show discusses what Henry will bring to Monaco and whether he will be a success.
'Henry idea ticks boxes for both manager and club'
Former Arsenal, Barcelona and Juventus striker Henry started his career at Monaco, winning the Ligue 1 title in 1996-97. That team, managed by Jean Tigana, featured talents such as David Trezeguet, Emmanuel Petit, John Collins, Enzo Scifo and Fabien Barthez.
Yet Monaco now sit 18th in Ligue 1, having won just once in 12 games in all competitions under Jardim, who guided the club to the French title in 2017 – their first since 2000.
Henry, who was linked with the Aston Villa manager's job before it went to Dean Smith, has most recently been working as an assistant to Belgium head coach Roberto Martinez.
Henry made his debut for Monaco in 1994
French football journalist Julien Laurens said: "The idea of Henry ticks a lot of boxes for Monaco – the name, the charisma, the player he was and his career there.
"The image is important for them to appoint a new manager, they need a big name with a great image to follow Jardim because they feel the club is back now to where they were not long ago, when people did not care that much."
Jardim was sacked after three successive league defeats, by Angers, Saint-Etienne and Rennes, and "ran out of ideas" after four-and-a-half years in change, suggested Laurens.
"In his press conference before the Saint-Etienne defeat, there were [only] 10 journalists there," Laurens said. "This is a big club that won the league and reached the semi-finals of the Champions League.
"The lack of pressure from the media and fans won't be an issue – Henry won't mind that – but there will be a lot of scrutiny of him going there. There will be far more people in the stands and in the press conferences.
"The Aston Villa project really interested him, he was really keen on it but he wants to work with young players and feels he has a relationship with them.
"He did that at Arsenal for one of the youth teams and this is like going back home. It ticks a lot of boxes for Henry too as his first managerial role."
BBC Sport's European football expert Steve Crossman added: "It is a softer landing for his first job in management than Aston Villa would have been. Even though Monaco are a much bigger club, the pressure is less and no Monaco fan will be expecting them to immediately jump back up to the top of the league."
A perfectionist as a player – but that might not work as a manager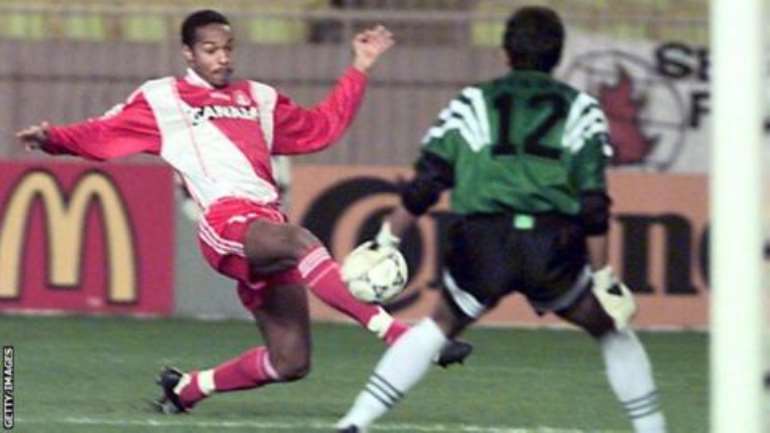 As well as glory at Monaco, Henry's career saw him win league titles in England with Arsenal and Barcelona in Spain.
He also won the Champions League and three domestic cups, plus the World Cup, European Championship and Confederations Cup with France.
"Henry was very demanding with himself as a player, hence the no-smile celebrations after scoring goals," Laurens said. "His dad was so demanding with him as a kid and never being happy with anything he did.
"Even when he got into the Clairefontaine academy, even when he was at Monaco scoring goals, his dad would say 'you missed two or three chances'. There will be some of that in Henry the manager.
"When France legend Michel Platini became a manager, not that he lasted long or was successful, the problem he had was that in training some of the France players could not do something and he would ask for the ball. He would ping a 70-yard diagonal pass and say 'that is how you do it'.
"There will be that temptation with Henry and he will have to reign that in because if someone misses a chance at training, he will want to show them how to do things, but that does not work as a manager.
"It will be interesting to see how he deals with all of that. He is such a perfectionist and there will be times he finds that difficult."
'Who are you calling Henry?' – demanding respect
Ligue 1 may see a Thierry Henry-Patrick Vieira managerial rivalry – with the latter in charge at Nice
Henry has worked with the very best in the modern game – playing alongside Zinedine Zidane, Lionel Messi and Dennis Bergkamp, and being coached by Arsene Wenger and Pep Guardiola.
The former Arsenal and Barcelona forward's playing CV is of a high quality, and he will demand respect, according to Laurens.
He added: "I remember Henry going back to the Monaco academy when he was with Barcelona and a few of the kids saw him from the photos in the lobby and around the place.
"They saw him that day and shouted, 'Henry, Henry,' and he turned around and said: 'Who are you calling Henry? We did not grow up together, you need to show me respect.' And that respect thing is huge for him – it has been throughout his whole life.
"Monaco is a young squad and he will want them to be very respectful of him despite not being a manager before. The dynamic between the dressing room and him will be interesting – some will have seen him play and some will not have been born when he won the World Cup in 1998.
"What formation will be play? We don't know what his philosophy will be – will he follow Arsene Wenger or Pep Guardiola? Will he be completely different?"
Spanish football expert Guillem Balague says the "development of players" will define Henry's time at Monaco.
Balague said: "He will be judged on getting Tielemans into being the player we all expect him to be and for Sofiane Diop and Nacer Chadli to get better.
"I have had the privilege of spending hours with him discussing football and what I found with him is that we got into very deep issues.
"He has a lot of answers and that happens when you have been a successful player, but when you are a manager you have to deal with defeats – so how will be cope with that?"
If Henry does get the job, here is a date for your diary: 8 December, Monaco v Nice – a potential meeting for two of Arsenal's 2003-04 'Invincibles', Thierry Henry v Patrick Vieira.