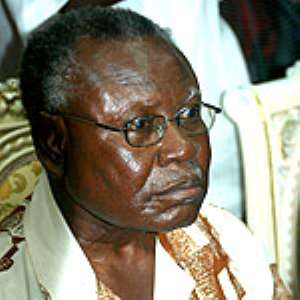 Tributes have been pouring in for the late Joseph Henry Mensah, an economist and astute politician, who died on Thursday morning at the 37 Military Hospital, in Accra, at the ripe age of 89.
A stalwart of the governing New Patriotic Party (NPP), he served in various ministerial positions under different governments.
Members from both the Majority and Minority sides in Parliament were united in their respect and admiration for his selflessness, brilliance and dedicated service to his country and the party.
Mr Osei Kyei-Mensah-Bonsu, Majority Leader and Minister for Parliamentary Affairs in a statement said Ghana's first President, Osagyefo Dr Kwame Nkrumah, saw his unique talent and that was why he invited him to come to Ghana to contribute to the development of the nation.
'J.H. Mensah knew he could have earned much more within the enclave of the United Nations (UN) but selfless, as he was, responded to his selfless instincts and migrated back to Ghana to help in constructing the edifice called Ghana'.
The plan of economic management he introduced included the face-lifting of urban centres, road development and a shift from controlled economy to a liberalised economy.
He credited him with the introduction of the first structural adjustment programme in the country – the devaluation of the cedi to stimulate agricultural and industrial production.
Mr Haruna Iddrisu, the Minority Leader, described him as 'an exceptionally and profoundly brilliant economist'.
He added that he was 'one of few, gifted with God's gift of thinking on his feet momentarily at all times' and made significant contribution to the economic and political development of the nation.
Mr. Iddrisu said 'he was an inspiration to many members in this House'.
'We will miss his brilliance, we will miss his humility and we will miss the depth of his knowledge. He was very academic and had well researched papers. He will forever remain in our hearts.'
'We have lost a father, a political colossus, and our sympathy and condolences to the immediate family, to the President and members of the New Patriotic Party (NPP) and the nation at large.'
Mr Rashid Pelpuo, MP for Wa Central, said Mr. Mensah's death was a great loss to the nation and a huge gap in the body politic.
Mr Eugene Boakye-Antwi, Deputy Minister for Works and Housing and MP for Subin, said he was a brilliant scholar, statesmen, politician and man of many parts.
Mr. Joseph Yieleh Chireh, MP for Wa West, labelled him as 'a dedicated public servant and politician'