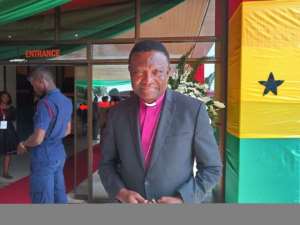 Reverend Professor Emmanuel Asante, the Chairman of the National Peace Council, has urged Ghanaians to use the demise of former Vice President Paa Kwesi Bekoe Amissah-Arthur to unite.
Rev Prof Asante made the appeal in an interview with the Ghana News Agency on Thursday at the funeral of the late former Vice President in Accra.
The mortal remains of the late Amissah-Arthur, who died on Friday 29th June, is lying-in-state at the foyer of the Accra International Conference Centre for public viewing.
His funeral service would be held on Friday, July 27, from 0900 hours to 1200 hours at the main auditorium of the Accra International Conference Centre.
This would be followed by internment at the new Military Cemetery at Burma Camp.
Prof Asante said: "We've lost a selfless, humble political leader of our nation. Let what has happened to our former Vice President unite us just as the demise of President John Evans Attah-Mills united Ghanaians."
"It is unfortunate that in our country, we only wait after somebody has died that we begin to see the good in that person. But we all know his humility, his service and his commitment," he stated.
He said: "Let's as Ghanaians take a cue out of that. And when we are given the opportunity to serve the nation, let's do it with humility and with selflessness and love."
Rev Prof Asante urged Mrs Matilda Amissah-Arthur, the wife of Amissah-Arthur and the family to take refuge in the good Lord. GNA
By Iddi Yire, GNA