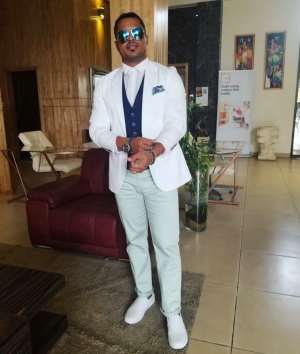 Actor Van Vicker calls for peace as he also added his voice to arguably the best celebrity beef Ghana has ever witnessed in recent years.
King Sark yesterday perfectly responded to Shatta Wale's recent attacks on him when he released a diss song titled 'My Advice'.
However, the diss song itself is not the major blow for the SM boss but the various side displays from the spectators.
Many people including famous celebrities have shared their comments on the issue from various angles, and now in the comment box is the handsome actor Van Vicker.
Unlike most of his other colleagues like Edem, Yaa Pono, Peace Hyde, Joey B, Trigmatic, Captain Planet, sister Derby and others who believe Sarkodie's diss track to Shatta is 'dhope and fire', Van Vicker believes there is the need for peace to prevail.
In a post from the actor spotted on his Instagram wall, the actor holds that the two musicians should put aside their discords and bury the issue and also let love prevail so that there will be happiness at every point in time.
"The beef has gone lyrical? Explicit stuff. @shattawalenima @sarkodiechale can't we just love one another in happiness? #ygf," he wrote on his Insta page.
In the minutes' freestyle, Sarkodie offloaded all the bitter words from his chest and directed it at the Dancehall artist and that has sparked actor Van Vicker to make this comment