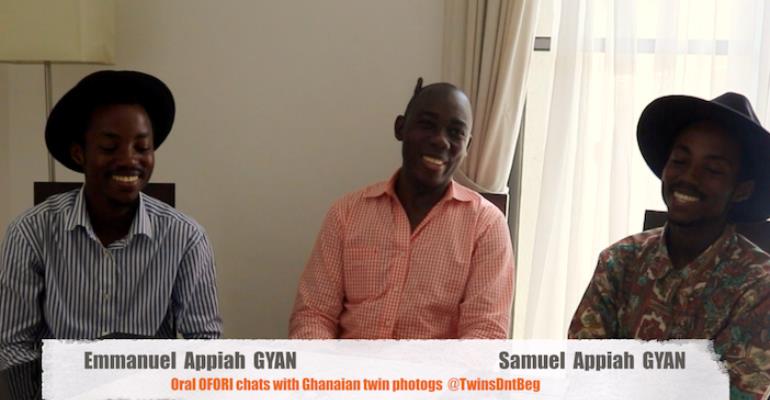 Samuel Appiah Gyan and Emmanuel Appiah Gyan, AKA TwinsDntBeg, renowned Ghanaian photographers, bloggers, and PR practitioners have told TheAfricanDream.net in an April 2018 interview that they weren't afraid to start small with photography.
The twin brothers opened up in an up-close and personal interview with Oral Ofori of TheAfricanDream.net to talk about the drive behind their craft as photographers and videographers.
During the conversation, Twinsdntbeg also talked about their love for photography while expressing a lot of admiration and respect for photographers in Africa. They, however, singled out ace Ghanaian photographer Emmanuel Bobbie, AKA Bob Pixel, for his exceptional work and influence on them.
Born April 3, 1989, the brothers who completed their education at the Kwame Nkrumah University of Science and Technology in Kumasi, Ghana, advised: "if you love photography, don't wait for the big moments and gigs to practice, use your family and friends as models and shoot from there, that's how we also started."
TwinsDntBeg are co-founders of www.swagofafrica.news , a popular website for current news across Ghana and parts of Africa.
Currently, the official photographers for Ghana's second lady — Samira Bawumia — the twins are giving back through coaching young or new photographers and said, "we plan to do something major soon that might involve giving away photography equipment or accessories to support those trying hard in this industry."
Watch the video to learn about some of the brother's photography tips, the history behind a few of their favorite and difficult photoshoots, and where they intend to take their passion in the long term
Follow them on Twitter, Instagram, and Facebook as @twinsdntbeg.