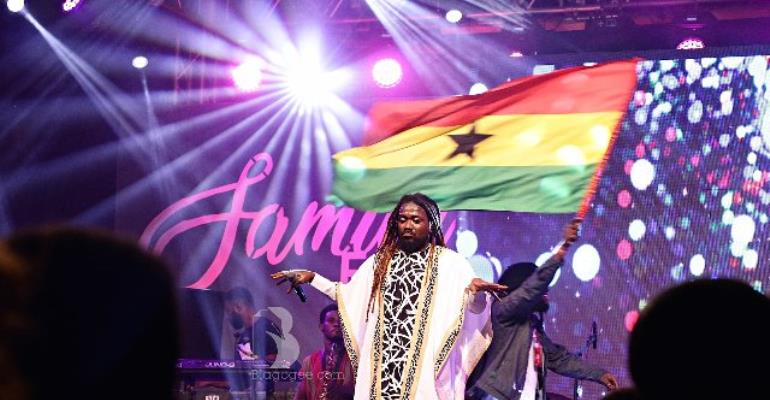 Reggae and Dancehall artiste, Emmanuel Andrews Samini, popularly known as Samini, has cemented his place as one of Ghana's finest musicians.
He held his concert dubbed Saminifest on Boxing Day at the Osu Oxford Street which was also a concert launch for his new album 'Untamed.'
Samini opened the stage with poetry about his career in the music scene in the country, delighting the thousands of fans gathered.
Dressed in Ghanaian royal clothes, he stormed the stage with his hit song, 'Where my baby dey,' getting the already excited audience to sing along.
Performing hit song after hit song, he took the crowd to a high point where the military personnel had to keep the crowd in check.
Samini was later joined by KiDi to perform the song 'Master Key' on which he was featured.
KiDi revealed how he grew up listening to Samini and how much it was an honour for him at this stage of his career to share a stage with Samini
"I started listening to Samini when I was a baby, and for me, it is such an honour to perform on the same stage with him today. Thank you Samini," KiDi said.
KiDi after speaking, went on to perform his new hit 'Thunder' which had the ladies up on their feet dancing along.
Samini in a short response after the KiDi performance said he had a responsibility "not to only put good music out there, but also to stay relevant and help upcoming musicians and in my view, that's the kind of substance legends are made of."
Samini's performance was held up briefly by the MC for the night, comedian Foster Romanus, as his family and management surprised him on stage with a birthday cake.
Samini who had his picture on the cake used his hand to break a piece of the cake saying he was unsure about cutting a cake with his picture using a knife.
The crowd at a point began to sing a rendition of the happy birthday song. It was truly a night of a legend.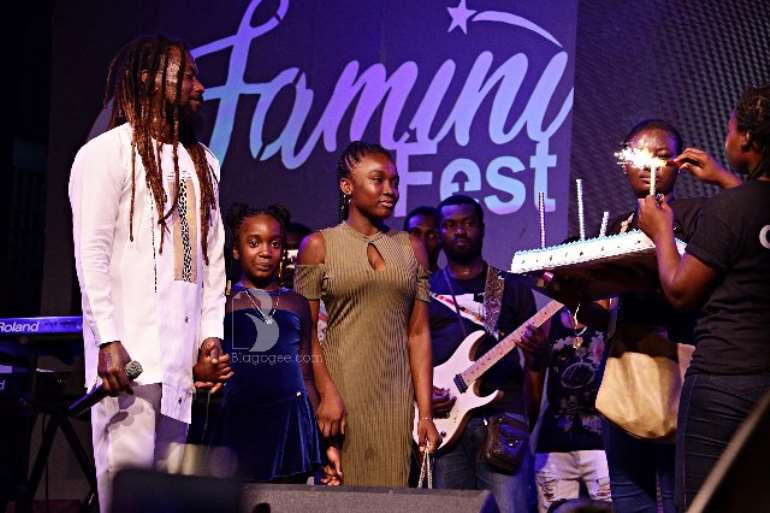 Samini continued to perform some his old hits as well as his new music on the 'Untamed' album with the same excitement as he began.
World renowned reggae artiste, Rocky Dawuni at a point, joined Samini on stage too.
The night was far from over when Samini's protégé Stonebwoy came up on stage. It was a whole new level of energy for everyone at the concert.
Stonebwoy performed some of his hit songs with Samini surprisingly singing along.
The highlight of Stonebwoy's performance at the concert was wen he paused to acknowledge how influential his "big brother" Samini has been to him.
According to him, Samini opened some career opportunities for him, something he is grateful for. On the stage, Stonebwoy reaffirmed his loyalty to Samini and thanked him for being there for him.
Just when everyone thought the show was over, the pair came back to perform 'Climax' which was released in 2012.
The crowd, as usual, were on top of their voices. It did seem they had both forgotten their lines to the song which is understandably so.
However, they quickly turned the song into a freestyle piece and it was absolutely brilliant.
It was then that Stonebwoy described Samini as the best ever in terms of music freestyling.
Ghanaian rapper Ponobiom also was on stage, his popular song 'Obiaa wo ne master' caught up with the crowd as well.
Fans at the concert literally sang along to his song word for word. It must have been a good feeling for Ponobiom. Samini then again invited the top 3 winners of the Vodafone icons 2018 edition to share the stage with him as well.
Saminifest was great by all standards but definitely could have been better in certain aspects.
In the end, it was great, fans left the Osu Oxford Street excited and more than ever, Samini has proven himself again as a Ghanaian music doyen.
The 'Linda' hitmaker has not only created a niche for himself as a musician with his genre of music covering highlife, dancehall, reggae and hip-hop; he has also creditably helped in pushing the careers of some up-and-coming artistes in the country.