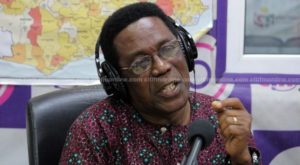 The Minister of State in charge of tertiary education, Prof. Kwesi Yankah has advised against tagging WASSCE and BECE candidates who record grades below C6 in the examinations as having failed.
His comments come in the wake of the release of this year's WASSCE results in which more candidates scored below C6 in the Mathematics and English Language papers than in 2017.
According to the minister, such candidates should instead be guided to find other suitable areas of study for higher education.
Speaking on the Citi Breakfast Show on Monday, he said, "I am worried about this because most of the time when we in education are presented with the result, particular with the D7 and F9, from a distance, you will conclude that this is a hopeless child. I think we should move away from that orientation. (Let's) move to the respective academic boards of universities and give them the duty of doing a close exams for the students to see what they will be qualified for rather than those areas that are considered key."
The West African Examination Council on Friday released the results for the 2018 West African Examination School Certificate Examination (WASSCE) which showed that many students obtained between D7 and F9 for the core subjects including Core Mathematics.
The development means that candidates who obtained the grades in these subjects may not be able to pursue higher education in public tertiary institutions in the country since grades C6 and above with D7 to F9 are considered as a failure.
But according to Prof. Yankah, such should not be the case.
He believes that students who obtain grade D7 or lower in any core subjects may be competent in other subjects in which they must be encouraged.
Technical Universities recently decided to allow WASSCE graduates who obtained D7 or lower to gain admission and better their grades while pursuing their diplomas and degrees.
The decision was taken due to the few numbers of applications to enter the school as a result of the C6 grade limit to prospective students.