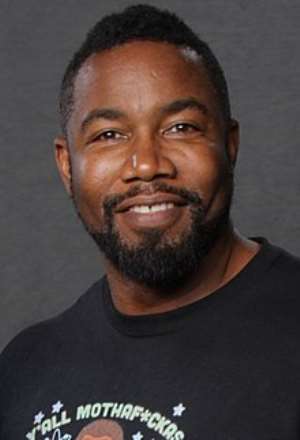 American born actor and martial artist Michael Richard Jai White who recently traced his ancestry to Ghana has spoken about the backlash he received from the black community about his trip.
The actor who was recently enstooled as a chief in Akwamu has reacted to the negative comments flooding his social media handles after his visit to Ghana.
The US actor along with Boris Kodjoe and other top Black Hollywood celebrities came to Ghana recently for the Full Circle Festival which was chaired by The Office of His Excellency President Akufo-Addo and presented by the Ministry of Tourism, the Ministry of Business Development and the Office of Diaspora Affairs.
During his visit, Michael Jai White received the stool title of Nana Akoto III Odopon and posted it on his social media handles to share the good news.
Following that, some people commented negatively under his post making him write a piece about his visit to Ghana and why Blacks must embrace their ancestry.
The talented actor who is the first black person to portray a major comic book superhero in a major motion picture, having starred as Al Simmons, the protagonist in the 1997 film Spawn, was quiet disappointed at how his fellow black people could be so negative about his actions. "We American born blacks were bred to hate our own people and ourselves. Self-deprivation is buried deep within our subconscious. We've found comfort in calling ourselves derogatory names and sabotage our own progress because we've been convinced we are unworthy of the same things whites or other nations enjoy. When Jews visit the Holocaust Museum or Israel, or Irish and Italian Americans travel to their homelands, there's ZERO backlash from their communities and communities outside" He wrote.
The actor who was born on November 10, 1967 has starred in many movies including as Tyler Perry films Why Did I Get Married? And Why Did I Get Married Too? He also starred as the character on the TBS/OWN comedy-drama television series Tyler Perry's For Better or Worse. White portrayed Jax Briggs in Mortal Kombat: Legacy. He portrayed boxer Mike Tyson in the 1995 HBO television movie Tyson. He also played the title role in the Blaxploitation film Black Dynamite, as well as the Warner Bros. Animation series of the same name.
Read his full post below;