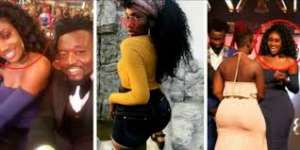 Some very observant social media users are trolling and teasing Rufftown records new act Wendy Shay for wearing the same wig for three good months.
From Lynx Entertainment signee Kuami Eugene being criticised for his wardrobe malfunction episodes including attending the one-week memorial service of the late dancehall artiste Ebony wearing a faded black T-shirt to being accused of wearing boxer shorts that sell at GH¢5 on the market, the latest to fall under the microscope of observant social media users is Rufftown records' new act Wendy Shay.
Wendy Shay a few days back had been accused of dating her manager Bullet after a video and pictures circulating social media captured the two all over each other and walking hand in hand at a public event.
Their action in the video raised eyebrows leading some fans to believe that they are going too far with their relationship as musician and manager. Many in their assertion concluded that they are behaving like a couple rather than professionals.
Wendy Shay subsequently refuted the rumours saying she considers her manager, Bullet as a father hence, she can't have sexual relations with him. She claims the relationship between herself and Bullet is strictly platonic and the mere thought of taking it to the next level has never crossed her mind.
With that subject dusted and done, the "Uber Driver" singer has yet again landed herself in series of social media trolls and this time her hair game has come under scrutiny.
She has been taken on for allegedly wearing the same wig for three good months.
According to observers, she made her first public appearance at the 2018 VGMA rocking a long-wavy-styled wig.
Following her announcement as the "replacement" of Ebony, Wendy Shay was spotted wearing a replica of the supposed wig in the music video for her debut single 'Uber Driver' and has since been seen with the same hairdo on several other occasions.
While some argue, the hair style may be one she loves and would like to be identified with, others seem to be tired of her wavy hair look already, and are viciously demanding for a change!