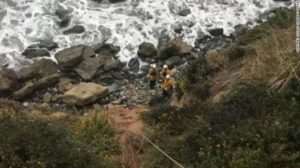 An Oregon woman who disappeared a week ago was found alive at the bottom of an oceanside cliff in Big Sur, California, where she survived in the wreckage of her SUV by using her radiator hose to siphon water from a nearby creek, authorities said Saturday.
Angela Hernandez, 22, of Portland, injured her shoulder but was able to walk and talk, said John Thornburg, public information officer for the sheriff's office in Monterey County, California.
Photos posted on Facebook showed Hernandez sitting on the rocky coastline as she received medical care. She was pulled up by ropes and taken to a hospital, he said, but her condition was not immediately known.
Hernandez's Jeep Patriot apparently ran off Highway 1, the north-south highway that hugs the Pacific coastline. She was driving from Portland to visit family in Lancaster, in Southern California.
She sent a text around 10 p.m. July 5 saying she was tired and stopping to sleep in her car at a grocery store parking lot in Half Moon Bay, in San Mateo County, said a missing persons flier.
About 8 a.m. July 6, she notified her family that she was continuing the drive, the flier said. After that, no more texts were sent. Calls to her cell phone went straight to voice mail.
Law enforcement agencies began looking for Hernandez on July 6, when her family reported that she'd stopped communicating with them. She was a frequent user of social media and the lack of communication was unusual, authorities said.
Source: cnn.com