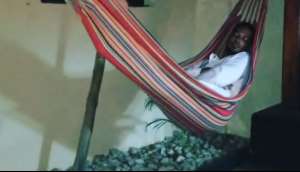 After France yesterday beat Croatia 4-2 to lift the World Cup trophy for the second time in Russia, however it seems not only Luca Modric's Croatia suffered the pain.
Interestingly, Ghanaian movie personality, Van Vicker who made a wrong bet also suffered direly for it after he spent his night outside his home fighting mosquitoes.
According to reports suggest that , the movie star, Van Vicker yesterday slept outside his home after losing the World Cup bet to his wife.
Aparentlty,the actor had bet with his wife that Croatia would win while his wife backed France which the bet came with condition that whoever losses will sleep outside and unfortunately, the actor's side lost and was forced to sleep outside till morning.
"I deserve what came to me., I threatened France supporters in my house would sleep outside in the rain tonight. Well, France won, guess who is sleeping outside in the hammock? I pray it doesn't rain tonite. My son joins me soon, lol."
Watch video below: