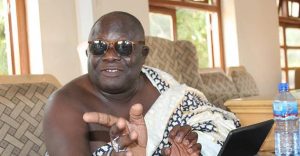 FORMER Municipal Chief Executive (MCE) for Ejisu-Juaben and National Democratic Congress (NDC) key figure, Afrifa Yamoah Ponkoh, is brimming with rage.
According to him, media reports that he left behind a huge debt at the assembly before leaving office is total false.
Mr Yamoah Ponkoh stated that he left office with a clean financial sheet therefore nobody should link him to the debt at the assembly.
The current Ejisu-Juaben MCE, Beatrice Serwaa Derkyi, said her predecessor (Ponkoh) left behind a staggering debt of GH¢1,093,224.
She said the debt particularly increased to an astonishing level from December 11, 2016 to May 17, 2017 before she assumed office.
Mr Yamoah Ponkoh stated that his tenure as MCE ended on July 14, 20I5, therefore he could not be blamed for the debt.
He said the coordinating director of the assembly and the then Ashanti Regional deputy minister, who was the caretaker MCE, should be blamed.
"I am not responsible for the huge debt at the Ejisu-Juaben Municipal Assembly. I left office with a clean record and the documents show.
"Nobody can hold me responsible for the debt because I am clean," he  told DAILY GUIDE during an interview.
According to him, the financial records of the assembly were audited every three months when he was in office "and no adverse findings were cited."
Mr Yamoa Ponkoh indicated that he is not a corrupt person and so people should not link his name to corrupt practices at the assembly.
FROM I.F. Joe Awuah Jnr., Kumasi