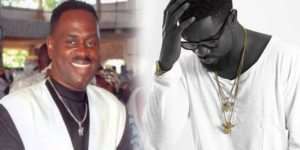 Veteran Gospel musician, Yaw Sarpong, has said he is looking forward to collaborate with Sarkodie soon.
Sarpong said he enjoys listening to Sarkodie and has hopes of working together on a project in the near future.
"Sarkodie is one of the musicians I admire so much and the two of us are in talks for collaboration soon," he disclosed to Showbiz.
According to Sarpong, majority of secular songs are much better than some Gospel compositions.
He also stated that some secular songs such as CCTV by King Promise, Adonai by Sarkodie among others overshadow today's Gospel songs which merely cast a lot of insinuations at supposed enemies.
Sarpong is also preparing for the release of his 26th album titled 'The Nine'.