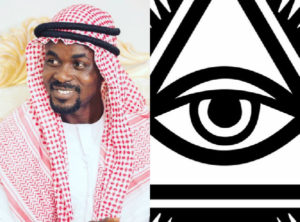 Now that didn't take long. CEO of Zylofon Media and MenzGold Company Limited Nana Appiah Mensah has today July 27, confused fans after posted cryptic images of the Illuminati symbol with several confusing riddles and quotes.
He posted 2 pictures, one of a fist with rings on with the initials KING and then the worldwide symbol of the Free Mason Group, a triangle with an eye on it.
He captioned the post: "Today's Riddle; I am the sun that riseth and set up above the realms and in the hades and heaven above the horizon; I AM A KING.
The grandmaster above who seeth ALL things; good and evil, earth, fire, wind, blood and water with the all seeing eye!"Horus" WHO I'M I? My name is "I AM", I am GOD. #SupremeGod
#AllseeingEye#SwordofJustice?#WrathofGod#ProphecyManifestation#MomentsofDestiny "
If the pictures are anything to go by then it actually looks like the Zylofon and MenzGold dealership CEO may actually be a member of the self-titled Enlightened Ones of the Free Mason Group or Illuminati
Take a look at the post below and share your views: