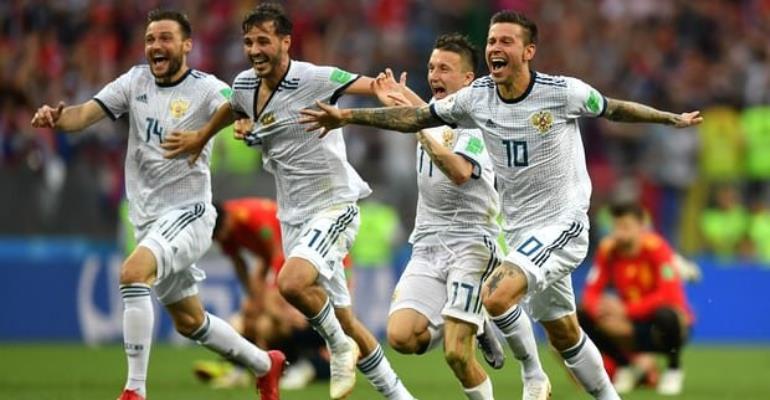 Igor Akinfeev saved two penalties in a shootout as the hosts knocked out Spain and booked their place in the quarter-finals.
DE GEA'S HORROR STATISTIC CONTINUES
This world cup is proving to be a nightmare for David De Gea. His stellar performances for Manchester United earned him the mantra "Dave Saves" but in a stunning turn of events, we really need to "Save Dave". De Gea has conceded 6 goals from the 7 shots on target he has faced.
SPAIN'S STRATEGY
Spain completed a mammoth 1024 passes as against Russia's 200. In the first half, Spain didn't pose much of an attacking threat as they managed only 2 shots on goal. The build-up play was rather slow with a lot of back passes. Spain wanted to draw the Russian players out of their defensive shell in the first half but the Russians didn't budge. In the second half as well as in the extra time, Spain tried to quicken things up with the introduction of Andres Iniesta but the Russians were too organized and Spain just couldn't find a way through.
RUSSIA'S ULTRA DEFENSIVE STRATEGY
As expected, the Russians were expected to defend deep in their own half with reliance on counter-attacks. In the first half, Artem Dzyuba was left up front as the target man with a 5-4-1 formation. For most parts of the second half, Russia appeared "strikerless" as they lined up in a 5-5-0 formation. It was a classic match of defensive solidity versus attacking potency. In the entire 120 minutes of football, Russia had just 1 shot on target [the penalty Dzyuba converted].
A WORLD CUP OF OWN GOALS
Sergey Ignasheivich's 12th-minute own goal was the 10th own goal in the World Cup. Ignasheivich, aged 38 became the oldest player to score an own goal in the world cup.
SPAIN'S HISTORY AGAINST HOST NATIONS CONTINUES
As good as Spain is, it will surprise you to note that in the entire history of the World Cup, Spain has never beaten the host nation.
RUSSIA PREPARED FOR THE PENALTY-SHOOT OUT
Watching the game, it was clear that the Russians didn't want to risk many men forward when they had clear opportunities to hit the Spaniards on the break. The victory justifies coach Stanislav Cherchesov's pre-match comment. He said, "Anyone can be God if he tries". The Russians tried and guess what? They have become gods.