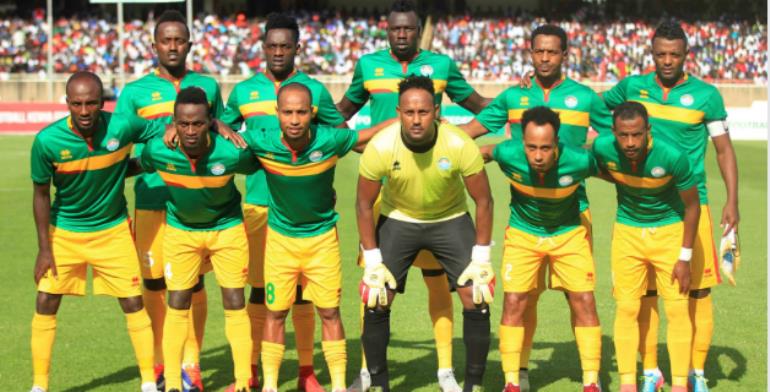 Ethiopia have named 23 man squad for this month's 2019 Africa Cup of Nations qualifier against Ghana in Addis Ababa on November 18.
Head coach of the side, Abraham Mebratu included home-based players, with Egypt-based trio Shemeles Bekele, Gattuoch Panom and Omad Okuri the only foreign-based.
The Walias, who currently sit second of Group F, will be hoping to upset the Black Stars on home soil to revive their chances of returning to the continental fiesta for the first time since South Africa 2013.
Full Squad:
Goalkeepers: Samson Asefa (Dire-Dawa K.), Abel Mamo (Mekelakeya)
Defenders: Abdulkarim Mohammed (St. George), Aschalew Tamene (St. George), Ahmed Rashid (Ethiopia Bunna), Temesgen Castro (Ethiopia Bunna), Anteneh Tesfaye (Dire-Dawa K.), Abebe Tilahun (Mekelakeya), Desta Yohanesse (Hawassa K.), Amsalu Tilahun (Fasil k.)
Midfielders: Daniel Demissie (Ethiopia Bunna), Samson Tilahun (Ethiopia Bunna), Mulualem Mesfin (St. George), Canaan Markene (Adama Kenema), Shemeles Bekele (Petrojet SC, Egypt), Gattuoch Panom (El Gouna FC, Egypt), Biniam Belay (KF Skenderbeu, Albania)
Forwards: Getaneh Kebede (St. George), Abel Yalew (St. George), Addis Gidey (Sidama Bunna), Mineyehlu Wendemu (Mekelakeya), Amanuel Gebremikael (Mekelle 70 Enderta), Omad Okuri (Smouha SC, Egypt)