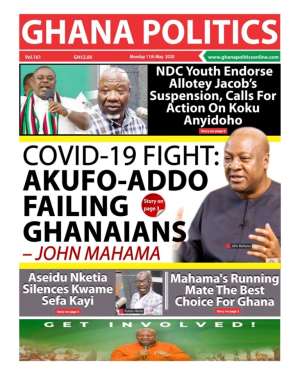 Subsequent to the suspension of the former Central Regional Chairman of the main opposition National Democratic Congress Bernard Allotey Jacobs for his consistent anti-party conduct, this portal has observed that many NDC youth have welcomed the decision amidst jubilation.
The youth have also called for the suspension of former Deputy General Secretary of the party Koku Anyidoho for his recent unpalatable media engagements which seem to denigrate the NDC.
Most NDC youth on Social Media have described Koku Anyidoho's pronouncements as anti-party conduct similar to what led to the suspension of his alleged ally Allotey Jacobs and therefore must not be entertained further.
According to this portal, the former General Secretary in a subtle rebuttal to the calls for his expunge from the party is said to have tweeted that he remains unshaken about those threats and cannot be bothered since which is a clear indication that he will continue with his vituperative attacks on his own party despite the possible actions he might face.
It is unclear why a former Presidential Spokesperson to the late President Prof John Evans Atta-Mills, who was elected on the ticket of the National Democratic Congress and served the nation in humility and so much passion will decide to lower the very party that made him once upon a time one of the most powerful men in the country.
A careful look of commentary from a section of NDC sympathizers suggests that Koku Anyidoho, just like Allotey Jacobs has not been able to overcome the shock of the noble Prof Mills' death and therefore refused to come to terms that power is transient, even in internal party political settings.
In a newsletter that sought to ask if he (Koku Anyidoho) will be next to be suspended following Allotey Jacobs', the former presidential aide to the late President John Evans Atta Mills sarcastically said "Is it true that Koku Anyidoho too will be suspended? I am laughing oooo. A very very very big joke of the current COVID-19 dispensation. Tweaaaa."
He further stated that "Battle lines are drawn: I am against all who are plotting to kill my destiny. If they are against me, I am also against them by the power of the Holy Ghost. Until my assignment on earth is over, no human being can stop me from living through my God-given days on earth."
Comforting himself with scriptures from the Bible, Koku Anyidoho quoted Psalm 91:8 and said "Gradually, gradually, the truth shall be told and no weapon fashioned against me shall prosper in the Mighty name of Jesus Christ. Shalom."
Koku Anyidoho together with the suspended Allotey Jacobs has in recent times being very vocal complimenting the ruling New Patriotic Party for their actions during this pandemic period.
Mr. Anyidoho recently praised President Akufo-Addo over his approach in dealing with the outbreak of the COVID-19 pandemic.
After praising the president, he was criticized and insulted by some members of his party where he struck back saying, "if those small boys who sit under the tree to play cards and draughts will want to play politics with the COVID-19, we can grant them that, but God forbid that I, Koku Anyidoho in a crisis moment like this, having worked with a President of the Republic before, having gone through crisis moment, decides to do politics with COVID-19. I won't do it . . . if that is the reason why you will crucify me then crucify me after all Christ died and went to Heaven."
—Ghanapoliticsonline.com