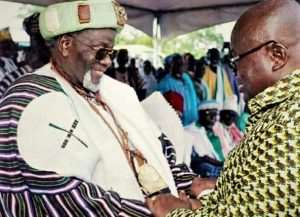 President Nana Addo Dankwa Akufo-Addo is courting support for the new Yaa-Naa of Dagbon, Abubakari Mahama II indicating that, glory must be given to God as the peace maker.
He has thus urged the people of Dagbon to rally behind the new Yaa-Naa and offer him their full support in a bid to sustain the current peace being enjoyed in the area.
"To paraphrase the words of the Holy Scripture, the enskinment of Yaa-Naa Abubakari Mahama II is the Lord's doing, and it is marvelous in our sight. Let us give him all the support he requires, as he sets about to administer the affairs of the state of Dagbon," he said.
Until today, January 25, 2019, Dagbon had been without a Yaa-Naa following years of protracted chieftaincy disputes which started in 2002 after the demise of the late King.
The delayed final funeral rites of two previous Yaa-Naa's were conducted recently, after a road-map to peace developed by the Committee of Eminent Chiefs led by the Asantehene, Otumfuo Osei Tutu II, was adopted and implemented, paving the way for the coronation of Yaa-Naa Abubakari Mahama II today.
Speaking at the coronation in Yendi, President Nana Akufo-Addo described Yaa-Naa Abubakari Mahama II as a man of reconciliation and one under whose reign Dagbon will be united.
"Naa, I know you are a man of peace and unity. I know your selection as Yaa-Naa, you are a man of reconciliation. I believe you are the man to reconcile Dagbon, and blunt the age-old rivalry of Abudu versus Andani, and put Dagbon back on the path to sustained progress and prosperity, as was envisaged by one of the greatest figures in the history of Dagbon, the 18th Yaa-Naa, Naa Zangina."
He further urged the people of Dagbon to be decorous in their endevours in order not to erode efforts put in place to bring lasting peace to the area.
"Dagbon does not have to fear any external enemy. Dagbon is a great state, one of the most ancient traditional states of our history. It has survived many marauding forces and repelled many enemies. Dagbon can only be brought to its knees by internal malcontents, and it is our collective duty and in our collective interest to fend them off."

"I, therefore, call on the sons and daughters of Dagbon to unite behind the new Ya-Naa, Abubakari Mahama II. He is a man of experience and dignity, and I am confident he will discharge the duties of his new office with distinction."
President Akufo-Addo also assured that "I shall do everything in my power as President of the Republic to administer this role in an atmosphere of peace and tranquility."
On projects, President Akufo-Addo said a sum of GHc30 million has been approved by Cabinet for the provision of a new water project to replace the old one in the area.
He said the necessary documentation will be tabled before Parliament soon for approval to be made before the project is started.
"Cabinet approved GHc30 million water supply project that will replace the old water project. The project is now going to be sent to Parliament for approval before it begins," President Akufo-Addo added.
–citinewsroom