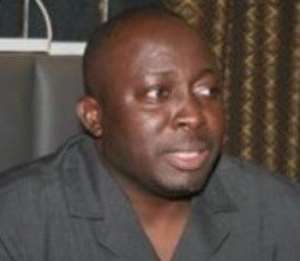 A former Deputy Minister of Employment and Labour Relations in the Mahama administration, Baba Jamal, says the dismissal of Chief Executive Officers of four state institutions, was aimed at diverting attention from Anas Aremeyaw Anas' latest exposé, "Number 12."
Baba Jamal says the President's action was stage-managed to divert attention from the video which has "tainted the Presidency in a way."
President Nana Addo Dankwa Akufo-Addo on Wednesday terminated the appointments of Managing Director of the Bulk Oil Storage and Transport (BOST) Company, Alfred Obeng Boateng, Ghana Export Promotion Authority (GEPA) CEO, Gifty Klenam along with all her deputies, Ghana Ports and Harbours Authority (GPHA) CEO, Paul Asare Ansah.
The dismissal of the CEOs coincided with the premiering of the 'Number 12' documentary which highlights massive rot in Ghana football.
In the video, Ghana Football Association (GFA) President, Kwesi Nyatakyi, bragged about his unfettered access to the Presidency and how he could easily bribe his way through to secure government contracts for some investors.
However, speaking on Adom TV's "Badwam" Thursday, Baba Jamal said there is no way President Akufo-Addo can extricate himself from the latest scandal, adding that the accounts given by the FA boss are "facts."
"The FA boss was even bold enough to disclose the President's hotel room number to the investors. This clearly tells you Nyantakyi is very close to the powers that be," Baba Jamal said.
The former National Democratic Congress (NDC) Deputy General Secretary also said the President's so-called incorruptible nature has been damaged beyond repairs by Anas' exposé and that his commitment to the fight against corruption is now in serious doubt.
Baba Jamal further said Anas' latest exposé and the numerous scandals that have rocked the country within just 15 months, show that the NPP government is terribly corrupt.