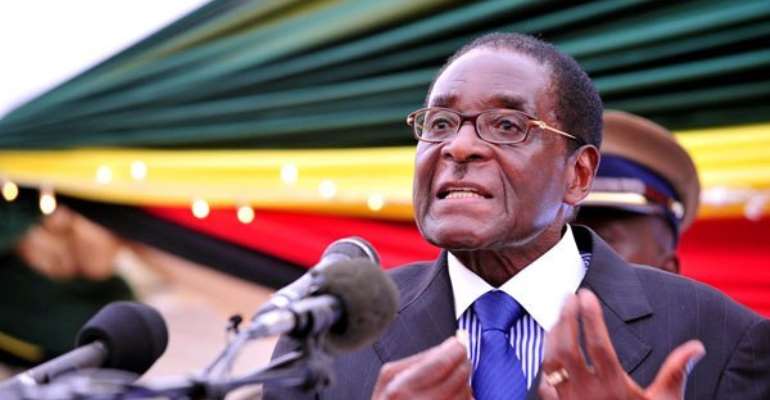 President Akufo-Addo, has extended his condolences to the government and people of Zimbabwe, and to the family of the first President of Zimbabwe, His Excellency Robert Mugabe, who passed away on Friday, 6th September, 2019.
In a letter to President Emerson Mnangagwa, President of the Republic of Zimbabwe, President Akufo-Addo stated that "Robert Mugabe will be remembered, above all, for his immense contribution to the liberation of Zimbabwe and Southern Africa from imperialism, colonialism and racist rule. His dedication to the cause of Pan-Africanism is fully acknowledged."
The President added that "though his marriage to the late Sarah "Sally" Francesca Hayfron, his first wife, the Ghanaian people have always considered him, and, indeed, all other Zimbabweans, as our in-laws.
Ghana, therefore, shares in the grief and loss of the Zimbabwean people, as we mourn his demise. He will be sorely missed." Mugabe dies
Zimbabwe's founding leader Robert Mugabe died in Singapore aged 95.
Mugabe had been battling ill-health and President Emmerson Mnangagwa told a Cabinet meeting two weeks ago that doctors had "taken him off life support."
Mugabe, ousted from power in a military coup in November 2017, was being treated in Singapore since April.
Once touted internationally as the hope of his nation, Mugabe left office with a grim legacy, after waging a campaign of oppression and violence to maintain power, and driving into poverty a country once known as the breadbasket of southern Africa.
He began his political career as a leader in the quest for the independence of Zimbabwe — then known as Rhodesia — and was regularly compared to South Africa's venerated freedom fighter Nelson Mandela.
As a revolutionary guerrilla leader, he fought white-minority rule and spent years in jail as a political prisoner.
After 10 years in prison, he earned university degrees in education, economics and law from the University of London.
In the mid-70s, he assumed leadership of the political wing of the Zimbabwe African National Union (ZANU), a militant liberation movement based in Mozambique.
From there, he helped orchestrate an armed resistance against white rule, emerging as a war hero both at home and abroad when the conflict ended in 1979.
He became the first prime minister of the newly independent Zimbabwe after elections in February 1980.
Articulate and smartly dressed, Mugabe came to power commanding the respect of a nation. He had a strong head start, inheriting a country with a stable economy, solid infrastructure and vast natural resources.
But the descent into tyranny didn't take long.
—citinewsroom