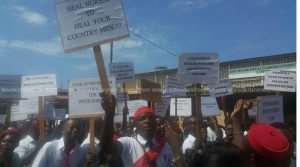 The Coalition of Allied Health Professionals has scheduled October 29 to picket at the Jubilee house to demand to be posted.
This is not the first time the bonded unemployed nurses and midwives have called the government to post them years after graduating.
Earlier, Minister of Health, Kwaku Agyemang-Manu, had assured the agitating nurses that they will receive their appointment letters by the end of 2018.
But the nurses numbering about 7000 nurses say they have not received anything from the government.
At a press conference on Tuesday, President of the coalition, Bright Bell said the nurses will not back down until their demands are met.
"The fate of the 2016 batch is still unknown because several failed promises and assurances by the government are still not fulfilled. These are not professionals from any school, but graduates from state-owned institutions."
Bright Bill further said the coalition has planned to picket at the Jubilee house if the government does not address their concern in the next two weeks.
"After going through all the required processes that are mandated for our clearance and posting, several calls to the government, the ministries of health and finance are yet to be fulfilled."
"This is turning into the longest-serving unemployment seen in the health sector. We are calling on the President, the parliamentary select committee on health, other stakeholders and civil society groups to arrest the situation and prevent the jubilee house picketing in the next two weeks", he noted.
NaBCo jobs not compulsory – Coordinator tells agitated nurses
The Coordinator of the Nation Builders Corps (NaBCo), Dr. Ibrahim Anyass, had earlier stated that although there are openings for graduate nurses to be employed under the scheme, application for the jobs is not compulsory.
According to him, the project had been initiated by the government as a stopgap measure to allow graduates from tertiary institutions who had completed their mandatory year of National Service gain vital work experience while ensuring that they continue to practice the skills they have learned.
He thus explained that that nurses who do not wish to be part of the scheme could not be forced to apply .
Unemployed nurses to be posted by the end of 2018 – Minister
Health Minister, Kwaku Agyeman Manu had indicated that plans are far advanced to ensure the nurses are posted by the end of 2018.
"After pressure, we have got the financial clearance issued and we start looking at how quickly we can put them on the payroll. That can be accommodated for this year. I think that by close of year we might have given appointment letters and we might have posted them. What we do not want to do is to post them and then for two months they will go and sit there without salary, and then we create salary arrears. We do not want to do that. Now that we have gotten the financial clearance, next two weeks, we will start doing interviews and posting for them to get some job to do."