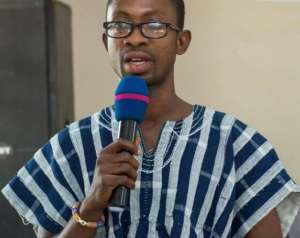 The Bono Regional Communication Director of the NPP, Seth Asare-Bediako has accused former President John Dramani Mahama of lying on statistics regarding Ghana on press freedom ranking.
President John Dramani Mahama during the celebration of World Press Freedom Day on May 3, 2020, stated that "During my tenure as President of the Republic of Ghana, we became the country with the highest levels of Press Freedom in Africa. At the time, we were ranked number one out of 54 countries in Africa.
…We also placed 23rd on the global ranking among a hundred and eighty countries. Three and a half years later, we have slumped seven places on the global ranking and lost the number one spot in Africa to Namibia and Cape Verde."
However, the NPP Communication Director for the Bono Region, Seth Asare-Bediako has described the statement from the former President as a lie.
"On such an occasion, one would expect that political leadership would speak to facts about efforts made so far as a country to ensure press freedom, challenges faced, and the way forward. Unfortunately, Former President Mahama chose to use the occasion to tell a blatant lie ostensibly to throw dust into the eyes of Ghanaians with the view of scoring cheap political points."
Mr. Asare-Bediako added that under no occasion was ranked first when it comes to press freedom. "Mr. John Mahama ruled Ghana as the President from 24th July 2012 to 6th January 2017 and so can he respectfully tell us in which year under his watch did Ghana placed 1st in Africa?"
He indicated Ghana was ranked first when it comes to press freedom in 2018 which was under President Akufo-Addo.
He called on President Mahama to explain to Ghanaians why he covered up his bodyguards who mercilessly beat-up a Joy FM reporter, Kwesi Parker-Wilson on Monday, October 29, 2018.
Mr. Asare-Bediako also questioned, "What happened to the Petition by the Media Foundation for West Africa on the alleged assault on a reporter of the Ghana Broadcasting Corporation (GBC), Yahaya Kwamoah on August 20, 2015, by the then-presidential staffer, Stan Dogbe?"
He noted that the good people of Ghana appreciate the efforts of this government under the abled-leadership of Nana Addo-Dankwa Akufo Addo to deepen Press Freedom by enacting the Right to Information Act, which was on the drawing board for about two decades.
—First1News.com