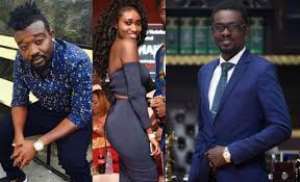 CEO of RuffTown records Ricky Nana Agyeman better known as Bullet has in a new post warned people to stay away from his new artiste Wendy Shay .
According to his Facebook post which read, "this is a rufftown property,bailers stay off and go get your own ??". We know the bailers been referred here is no other than Zylofon media and its CEO Nana Appiah Mensah .
Remember in February when dancehall sensation Ebony under the RuffTown label passed on Nana Appiah Mensah tweeted that the late singer begged him to come and bail her from Bullet's RuffTown label.
Bullet who didn't take the comment lightly responded to him according.
Well, God been so good Bullet has been able to spot another talented artiste called Wendy Shay and it looks like Nana Appiah Mensah and his Zylofon members want to bail her out as well making Bullet send out the warning to them asking them to go find their own talent.