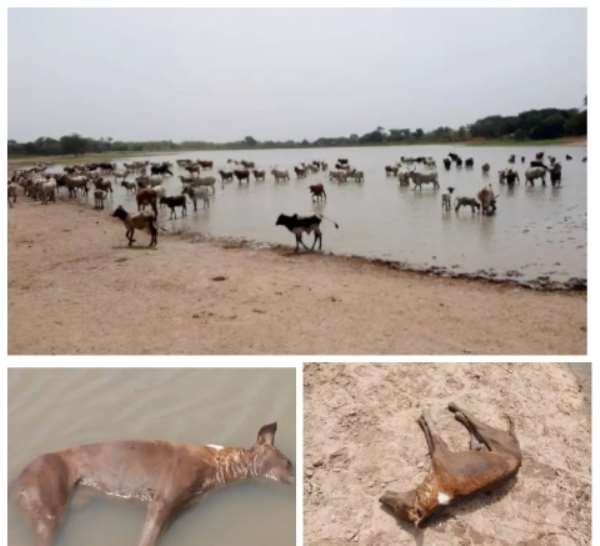 The residents of Bimbilla, in the Northern Region of Ghana, are raising serious health concern as a result of the activities of cattle herders in the locality, who have hijacked the community's aged source of drinking water for their cattle, a situation that has been described as a potential trigger for conflict.
Provisional figures of the 2010 PHC estimated the population of Bimbilla, the capital of the Nanumba North Municipality to about 29,158, representing 23% of the total population in the municipality and a 175% increase over the last ten years (10,607 PHC 2000). This indicates an increasing population of Bimbilla over the period which indirectly places the demand for potable drinking water on the rise.
Giving an eye witness account, Mr Attah Gafaru, a resident of Bimbilla lamented profusely how cattle herders reluctantly allowed their animals to compete fiercely with the residents of the area over their only source of drinking water, called "Wanpu Dam".
It could be seen from the video the magnitude of destruction of the dam caused by the activities of the cattle herders, where the animals defecated, urinate and muddied the dam which other nearby communities depending hugely on for both domestic and commercial use.
Domestic water supply according to the World Health Organization is one of the fundamental requirements for human life. Without water, life cannot be sustained beyond days and lack of access to adequate safe drinking water leads to the spread of disease.
This devastating concern does not only pose a health risk to the people but a potential trigger of the protracted conflict dynamics in the area, with both cattle herders and the native inhabitants of Bimbilla coming into serious contention, if the reckless manner in which the only source of water continue to be destroyed, angry Abdul Gafar has warned.
He calls on the Municipal Chief Executive of the area, traditional leadership and all duty bearers to address the situation before matters get out of hand.
Watch video below: