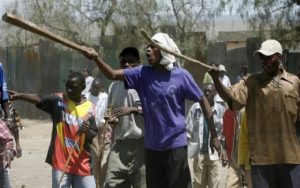 Some residents of Dagbon in the Northern Region who belong to the governing New Patriotic Party (NPP) nearly attacked party offices and regional executives on Thursday in protest to President Nana Akufo-Addo's failure to appoint a native of the area into his cabinet, so far.
Mr Akufo-Addo has named 36 ministerial nominees who are yet to be vetted and approved by parliament.
He will be appointing deputy ministers once the ministerial nominees have taken office.
The angry NPP, whose actions were foiled by party executives, say they do not understand why Mr Akufo-Addo has not considered any of their kith for appointment as they worked hard to ensure the party made a good showing in the region in last year's elections.
Regional executives of the party say even though they are doing everything possible to calm the angry party members, they found it hard to believe that the president had snubbed Dagombas