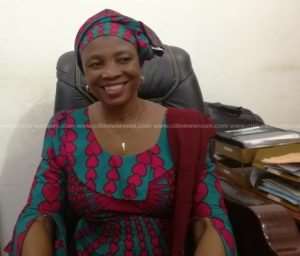 The District Chief Executive (DCE) for Bole/Bamboi in the Northern Region, Veronica Alele Heming, has pledged to work with key stakeholders to bring lasting peace to Bole and its environs.
She said the District and the Regional Security Councils are working tirelessly to ensure the recent chieftaincy dispute in the area does not recur.
The DCE indicated that she has intensified efforts as chairperson of the District Security Council (DISEC), towards ensuring a speedy resolution of the conflict between the two factions in the dispute.
Two persons have died, with two others injured, after several houses were razed following a violent clash between two chieftaincy gates in the area.
According to reports, one faction in the chieftaincy dispute, Mandari, was celebrating the Damba festival when some persons who belong to the Alhaji Abudu gate, fired into the crowd, killing one person on the spot and injuring two others.
The Interior Ministry has since imposed a 6:00 pm to 6:00 am curfew on the Bole Township and its environs, following the disturbances.
It has also banned residents from carrying ammunition or offensive weapons with a threat of prosecution if they fail to adhere to the order.
A group calling itself Bole Concerned Youth Association has called on the Presidency to investigate the role of the DCE in the recent chieftaincy dispute.
The group has accused the DCE of fueling recent chieftaincy disturbances at Bole.
It has alleged that the DCE has assumed an entrenched position in the matter and is resourcing one of the factions with arms to fight their opponents.
Speaking to Citi News , Madam Alele Heming refuted the allegations indicating that her priority was to ensure peace in the area and not to support any feuding faction.
"I am not interested in chieftaincy, I have never been interested in chieftaincy, I am not a chief, and I can't be a chief. All that I need in Bole is peace. So if I am ensuring peace and I am the chairperson of the DISEC, why will I go and buy arms to say they should destroy themselves. That is just someone who hates somebody and wants to destroy them. Destruction; that is what all is about. When I am at REGSEC begging, pleading for them to come and help to bring peace, how will I go and buy arms for people, it is never true," she stressed.
She described the allegations as attempts by political opponents to tarnish her reputation adding that God will certainly vindicate her.
Source:Citinewsroom.com|Ghana