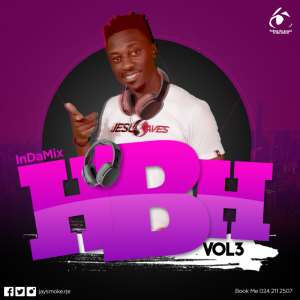 Every year, Ghana's finest Urban Gospel DJ, DJ JaySmoke releases his top favourite Hip-Hop joints of the year. This year is no different. Packed with amazing tracks from both local and international artists, Heavy Bass Hip-Hop Vol 3 features the very best.
In this year's edition, we are blessed with music from seasoned artists such as KB, Bizzle, Sevin, Skrip, Guvna B, Swoope and also introducing many new acts such as Jered Sanders, Limoblaze, Maikon West, King Subzy, El Melo and many more. With as many as 40 songs on the album, with a listening time longer than a football match, every Hip-Hop lover will definitely find something favourable on it.
Dropping this new mix for y'all, I hope you enjoy it and it blesses you in more ways than one. The whole idea behind this compilation is to sort of introduce you to musicians who are sold out for Jesus and using your favourite genre, Hip-Hop to spread the good news. By so doing, you can follow them online and then begin to get more of their songs so that you don't have to listen to songs that compromise your belief, says DJ JaySmoke.
Heavy Bass Hip-Hop Vol 3 is a banger and our advice to you is to turn the volume uuuup and the bass to extreme but be warned, if you have a weak speaker, it could blow up. Enjoy, Share, Be blessed.
Download Link
https://www.mediafire.com/file/y1q5btkkklu65cj/DJ_JaySmoke_-_Heavy_Bass_Hip-Hop_Vol_3.mp3/file/dj+jaysmoke+-+heavy+bass+hip-hop+vol+3+jaysmoke
Stream
https://audiomack.com/song/jaysmoke_rje/heavy-bass-hip-hop-vol-3 Tracklist
Skrip – Bumpin the Bass
Self – Rep the Lord
Ams Writter – Turn Me Up
The New Cool & DJ Brickboy – Church in da Bando (Radio Version)
EL Melo – No Juju ft Majesty
Guvna B – Dun All the Hype (feat. Melvillous)
Big Fil – Lit Faith (feat. King Chav)
Chrislil – 0b3y3 (feat. Joe Kay)
Dru Bex – Gotta Go ft. Jeremy Rodney-Hall & Wande
King Subzy – Highway (feat. Subby D)
Oluwatomi – Ibile Jesu (feat. Dotun Oba Reengy)
Swoope – All the Time
Sho Baraka & Vanessa Hill – Drowning (Last Sorry)
Tory Starks – Skywalker (feat. Torey D'Shaun)
Tory Starks – Feeling That (Radio)
Jered Sanders – All Year
Joey Vantes – Fortnite (feat. Jon Keith)
Thi'sl – I might do it
Chris Cobbins – Waves
JustPierre – Walk It Talk It (feat. Trooth Wordsmith & Kid Jimi)
Kaleb Mitchell – Get right to it
Aaron Cole – Parachute (feat. Nobigdyl)
Big Fil – They Say
Bizzle – Lit Lit
Bizzle – Way Up (feat. Sevin)
Derek Minor – See You Win (feat. Aaron Cole)
Dillie – Better Man
Flightschool – In the Wild (feat. Arcitec)
Limoblaze – JON (Jesus Or Nothing)
R. Swift – Auto Pilot (Feat. Whatuprg, Beleaf)
Kson – Won't Stop
Freddi – Shot To The Devil
Steven Malcolm – Watch
Jor'dan Armstrong – Kawasaki
Olade – Yenkor (feat. Sly)
Mission – Thank the Lord (feat. V. Rose)
Sevin – Ovadose
Skrip – Paper Chasing
KB – No Chains
Parris Chariz & Jarry Manna – Radiate (feat. Ty Brasel)
Maikon West – Jesus 4 the Boiz (Feat. Hef, Joekay, Oluwatomi)
Appreciation
Special thanks to God for this opportunity once again. To you, for all the support you have given me. To TeamRJE. To Mr Anderson (CEO, GFMM) for the console I use to create this mix. And to everyone who has supported me one way or another.
All Rights reserved. Copyright 2018.
Compiled & Mixed by DJ JaySmoke for Repjesus Entertainment.
For booking & Enquiries: 024 211 2507
Social Media: @JaySmoke.RJE