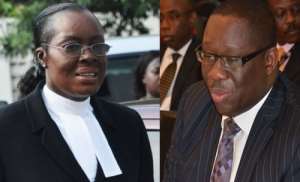 The Accra High Court presided over Justice Anthony Henry Kwofie, has said Social Security National Insurance Trust (SSNIT) is a government entity and for that matter, its external IT support, would not cause financial loss.
He further explained that though SSNIT makes a profit; so therefore, a loss to SSNIT goes to the state and not pensioners, because it is a government entity.
This was based on the fact that the Counsel for the third accused person Mad. Juliet Hassana Kramer (Chief Executive Officer of Perfect Business System) was seeking applications from the Court to delete count 16 in the charges.
This, she said, was bases for Section 179 (A)(3) of Act 29 Criminal Offenses Act.
The four other accused persons are Mr Ernest Thompson- former CEO of SSNIT, Mr. John Hagan Mensah, a former IT Infrastructure Manager of SSNIT, Mr. Caleb Kwaku Afaglo, former Head of Management Information System (MIS) at SSNIT, and Peter Hayibor, a lawyer for SSNIT.
The Court hearing was adjourned to 19th December, 2019.
Source: The Punch Newspaper
Email: atosam13@gmail.com