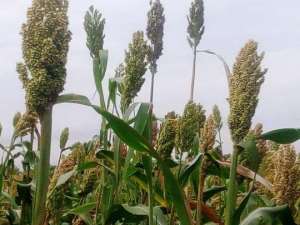 The Chief of Tuolo in the Lawra District, Naa Tembom Tang, has advised the youth in the area to go into millet farming, telling them that, it is a rewarding business.
That would help to bring down unemployment and make their lives meaningful to themselves, their families and the society.
He was speaking at a community gathering to mourn his deceased elder brother.
The chief said millet served as raw material for the production of most locally-made drinks and local dishes – malt, 'pito', beer, 'tuozarfi' and porridge and the demand for the cereal was high.
Millet is one of the commonest traditional cereal crops in Upper West, Upper East and Northern Regions and Naa Tang said it was regrettable people did not attach any seriousness to its cultivation.
"I started benefiting from farming when I focused much on millet farming and that is what I use to cater for my five wives and over 37 children."
He said the demand for the cereal had grown astronomically and earned him and his household substantial income.
He had expanded his farm from six to 10 acres and had been enjoying rising income.
He advised Ghanaians to begin to learn to use indigenous crops to produce things locally which would help to create jobs opportunities for the unemployed youth and reduce food importation.
He asked the young people to overcome laziness and begin to see agriculture as business.
'Involving ourselves in farming would help meet the aim of the government planting for foods and jobs policy,' Naa Tang added.