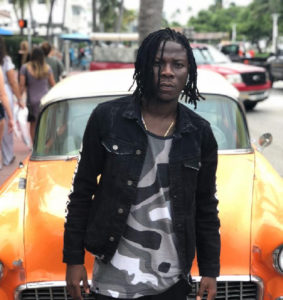 Ghanaian dancehall artiste Stonebwoy has said that, moral standards in Ghana are far higher than that of Jamaica.
According to the Bhim Nation General, there are certain acts that performers are freely allowed to indulge in on stage in Jamaica, whereas same act is frowned upon if done in Ghana.
"Is time now for the African masses and the Caribbean masses, I mean the artiste must connect to do greater things and as well sharing the vibes you know, because culture is always going to be the same but with some little diversions you know what I mean, one girl was like what's the difference, and am like back home in Ghana the moral levels is higher"
He explained that "you are not allowed to do certain things, doing certain things like its a norm, as tiny as you grinding on a girl, you can't do that in Ghana, cause it not allowed, if you do that it's seen as you going a little too far"
Stonebwoy is currently in Jamaica for the Reggae Sumfest. The show is part of Stonebwoy's 2018 'Epistles of Mama' tour.
Already, he has performed in Switzerland, Holland and two more show to perform at Holland and Jamaica.
On June 30, 2018, he performed at Lausanne, Switzerland and followed it up with a show on July 1 at Club Mondial in Beek, Holland.
The Summerjam show took place on July 6, 2018 in Cologne, Germany. On July 7, he played in Zurich, Switzerland.
This Friday, July 13 he will be performing at Empire Club in Rotterdam, Holland.
His protégé, Kelvyn Boy is also on the tour and has been supporting with spectacular back-up vocals.
His 'Epistles of Mama' album has gotten lot of plaudits from a lot of music fans across the world, placing Number 13 on the Billboard World Chart.
It features an array of local and international heavyweights as Sean Paul, Chronixx, Sarkodie, Pressure, I Octane, Efya, Vanessa Bling, Joey B, and Kabaka Pyramid.