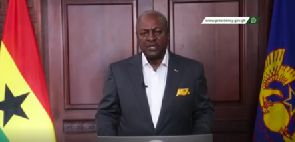 President John Mahama has said he is confident Ghana will emerge from Wednesday's polls unscathed.
Ghana goes to the polls on Wednesday December7, in a crucial election to elect a President and 275 parliamentarians.
Mahama who is the candidate of the ruling NDC comes against the main opposition New Patriotic Party's Nana Akufo-Addo who is contesting the presidency for the third consecutive time after being first beating in 2008 by the late Professor Atta Mills, also of the NDC.
In an addres to the nation Tuesday, President Mahama said: "I believe in the strength of our democracy and I am confident that Ghana will emerge from tomorrow's poll even stronger and more respected among the comity of nations".
Below are details of the address
Good Evening Fellow Ghanaians,
In 1992, we adopted a new constitution unto ourselves. This constitution has for the past 24 years guided us and been the foundation of our strong and maturing democracy. Since then, we as a people have never looked back. We are described with admiration by the rest of the world as the "model of democracy" or the "Beacon of good governance and rule of law."
After six successful elections we are on the cusp of a seventh. We have arrived at another defining moment of our history. The way we conduct ourselves in this democratic exercise will show to the world that Ghana's democracy has come of age.
We have led the rest of Africa in the liberation struggle and have been the shining light of Pan Africanism and pride in our African heritage. But we have also been through decades of instability. Since 1992, we have blazed the trail for a return to constitutional and democratic governance and have become champions of the rule of law and respect for human rights.
We have benefitted from the democratic dividend with an economy that has grown positively over the last 24 years.
Regular, peaceful, free, fair and transparent elections are a fundamental component of a good democracy. The moment is here, when we must consolidate our democratic credentials and demonstrate to the rest of the world that Ghana ranks amongst the best in the world when it comes to the quality of our governance.
My Brothers and sisters,
Tomorrow is election-day, the seventh of December, 2016. All is ready for a successful election tomorrow. It is your civic responsibility to vote. Let everyone exercise their franchise in deciding who governs our dear country over the next 4 years. The Electoral Commission and all who are associated with the successful conduct of the elections have expended tireless effort to bring us to this stage.
Much will rest on our collective shoulders as citizens of this great nation. Securing a peaceful election will rest heavily on how we conduct ourselves. I believe in the strength of our democracy and I am confident that Ghana will emerge from tomorrow's poll even stronger and more respected among the comity of nations.
I believe in the strength of our institutions to undertake this task and I urge polling officials and all others who will be on duty in connection with the elections to conduct yourselves in a fair and neutral manner.
I commit to stand with you and beside you; every step of the way; as one of you; and also as President- together with the Security Agencies, The National Peace Council, traditional rulers, religious leaders, our international partners and all stakeholders in taking on this sacred and noble responsibility for a safe and peaceful Ghana.
My fellow citizens, Ghana shall pass this test with distinction. Ghana will continue to rise! Let us vote in peace and tranquility.