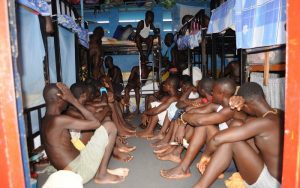 One hundred and twenty-four prisoners at the Sunyani Central Prisons are expected to cast their votes at the Ministries Canteen Polling Station near the Prisons in today's general elections. They are made up of 104 convicts and 20 remand prisoners exercise.
The Brong Ahafo Regional Public Relations Officer for the Ghana Prisons Service, ASP Vincent Ziniel who disclosed this to Graphic Online this morning said the prisoners were registered during the
registration exercise earlier in the year.
He urged discharged prisoners who registered while serving their jail terms to come to the polling station with their voters identity card to exercise their franchise.