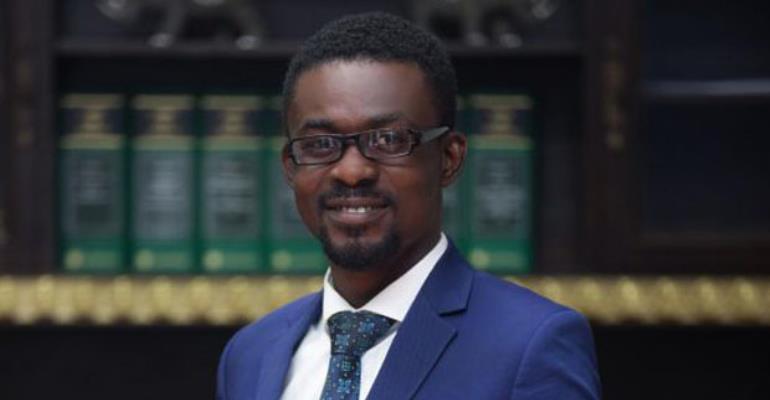 Details are emerging about how the embattled Chief Executive Officer (CEO) of gold collectibles firm, Menzgold Ghana, Nana Appiah Mensah(NAM1), was arrested in Dubai in the United Arab Emirates (UAE).
A source close to NAM1 briefed DAILY GUIDE about how authorities in Dubai arrested the Menzgold boss on December 7, 2018, upon his arrival in that country.
What Happened?
According to the source, someone introduced officials of an Emirati-owned company Horizon Royal Diamond managed by a Lebanese to Menzgold for the supply of gold.
NAM1, according to the source, traded normally with the Arab firm through his beleaguered Menzgold for some time.
Unfortunately, the source averred that there was delay by Menzgold in supplying gold to Horizon Royal Diamond at a point and that apparently made the Arabs unhappy.
Manager of Horizon Royal Diamond, whose name was given simply as Daniel based in Dubai, was said to have instructed a representative of his outfit, one Zacca, who is believed to be an Angolan, to travel to Ghana to possibly find out why Menzgold was delaying in supplying the gold to the Dubai-based company.
Upon his arrival in Ghana, according to the source, Zacca visited NAM1 at his office and there he met a Nigerian named Ayodele and a Ghanaian called Charles, who were believed to be the business partners of Menzgold boss.
After Zacca's meeting with NAM1, he reportedly held talks with the Nigerian and Ghanaian, who unknown to NAM1, promised to supply gold from Sierra Leone at a cheaper rate to Horizon Royal Diamond as compared to what Menzgold was offering at the time.
Loses
Zacca reportedly contacted his boss Daniel in Dubai to inform him about the new arrangement and on the blindside of NAM1, they reached an agreement with the Nigerian and Ghanaian but they failed to supply the gold from Sierra Leone as promised, leading to losses worth $51 million to Horizon Royal Diamond.
Pleadings
After suffering the misfortune, officials of the Dubai-based company reportedly went back to NAM1 to revive their business.
They accordingly apologized to him, saying "let bygone be bygone."
NAM1 agreed to trade with them once again and began supplying them but they were not paying as expected, according to the source.
As a result, the source said the Dubai Company owed Menzgold about $30 million.
Joint Venture
The source indicated that after their failed attempt to get gold from Sierra Leone, officials of Horizon Royal Diamond proposed a joint venture arrangement to NAM1 for the acquisition of a gold mine called Oware in the Ashanti Region.
NAM1 subsequently agreed to commit $2 million to commence the acquisition process while Horizon Royal Diamond pledged to inject $100 million into the operations of the mine.
DAILY GUIDE's checks revealed that the move was to ensure regular supply of gold to Horizon Royal Diamond.
However, when the plans failed to materialize, NAM1 reportedly sourced gold from small-scale miners across the country.
Initial Visit
According to the source, with the start of the Menzgold crisis back home, one of the lawyers of NAM1 (name withheld) decided to visit Dubai to get the Arab company to settle its debt to Menzgold in order to pay its customers who were agitating in Ghana.
Upon arrival in Dubai last year, the lawyer could not get the company to pay, as it reportedly refused to honour its financial obligations to Menzgold.
That trip was said to have been paid for by Horizon Royal Diamond.
Legal Fee
According to DAILY GUIDE's source, Menzgold's lawyer was compelled to hire a 'local' lawyer in Dubai to retrieve the money for his company.
But the Dubai lawyer accordingly charged Menzgold an amount of $1.8 million as legal fee.
However, Menzgold's lawyer told his Dubai counterpart that his company could not afford to pay such an amount upfront, but noted that if the lawyer succeeded in retrieving the money for Menzgold, the Ghanaian company could give him more than that.
That arrangement did not work out apparently and Menzgold's lawyer returned to Ghana before December 2018.
Meanwhile, in December 2018, Menzgold's lawyer visited Dubai again but this time, he was said to have gone there for a private visit that was not related to the issue.
NAM1's Arrest Plot
According to DAILY GUIDE's source, NAM1 contacted his lawyer to know his whereabouts and he told him that he was in Dubai.
NAM1 reportedly instructed the lawyer to wait for him in Dubai to see how best they could work to retrieve the $30 million from the Arabs.
The lawyer reportedly obliged but unknown to NAM1, according to the source, officials of Horizon Royal Diamond submitted his name to Dubai immigration officers for his arrest upon arrival in the country.
NAM1 could not meet the lawyer because he was picked up by Dubai authorities upon his arrival on December 7, 2018.
Apart from Horizon Royal Diamond, another Arab, whose name was given only as Ahmed in Dubai, owes NAM1 an amount of $3 million.
He reportedly embarked on the trip to retrieve the monies to pay the irate customers in Ghana.
The source said Horizon Royal Diamond made the report against NAM1 apparently to 'destroy' him so they would keep the money.
DAILY GUIDE has learnt that EOCO, the anti-graft body, invited him after Securities and Exchange Commission (SEC) and Bank of Ghana (BoG) had lodged complaints against him.
Sources told the paper that EOCO did not ask NAM1 to submit his passport.
Gov't Delegation Urged
A high-powered government delegation made up of Deputy Attorney-General, Joseph D. Kpemba, representatives from the Economic and Organized Crime Office (EOCO) and Ghana Police, have travelled to Dubai to meet NAM1.
The source stressed the need for the Ghanaian government to ensure the retrieval of the amount owed Menzgold to assist the company pay its angry customers.
Meanwhile, the Director of Communications at the Presidency, Eugene Arhin, has debunked a report by state-owned newspaper DAILY GRAPHIC that President Akufo-Addo called an emergency cabinet meeting over the arrest of NAM1.
How The Crisis Began
The woes of Menzgold began after the Securities and Exchange Commission (SEC), in a letter dated September 7, 2018, directed it to suspend its gold trading operations with the public.
SEC, at the time, said the directive was based on the fact that Menzgold had been dealing in the purchase and deposit of gold collectibles from the public and issuing contracts with guaranteed returns with clients without a valid license from the Commission.
The regulatory agency averred that the move was in contravention of Section 109 of Act 929 with consequences under section 2016 (I) of the same Act.
Menzgold was, however, allowed to continue its other businesses of assaying, purchasing gold from small-scale miners and export of gold.
Customers started demanding their investments gradually at the onset of the legal battle with SEC, but the situation worsened after Menzgold initially said that it could not pay its customers because of the directive from SEC.
It later reported that it had started paying off some of its customers.
A source at the time told DAILY GUIDE that the percentage payment schedules had been grouped into 100 per cent, 50 per cent, 30 per cent, 20 per cent and 15 per cent, respectively.
But the payments of the customers did not go on smoothly as planned, forcing customers to embark on a massive demonstration on January 8, 2019, in Kumasi which compelled government to intervene in the matter.
However, according to DAILY GUIDE's source, Menzgold has between 46,000 and 48,000 customers and not 1.8 million as reported earlier.
Again, the source indicated that Menzgold owes customers between $50 million and $60 million and not $200 million as being speculated.
The source insisted that Menzgold is not a Ponzi scheme as the public is being made to believe, adding that NAM1 is a businessman who set up the company to do genuine business.
NAM1, the source added, was trying to retrieve monies owed him to pay the customers before his arrest.
Source: Daily Guide