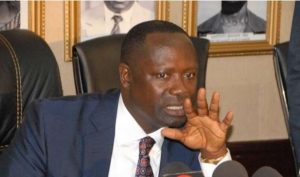 The Petroleum Minister, Emmanuel Armah Kofi Buah has dismissed claims that he's blamed President John Mahama and leading members of the ruling National Democratic Congress (NDC) for the party's defeat in the December elections.
According to him, he's not made any commentary on factors that might have contributed to the NDC's defeat, urging the public to disregard any such information.
A story attributed to West End Radio located in Ellembelle in the Western Region quotes the Minister as saying President Mahama must be blamed for his own defeat.
Part of the story said: "The massive failure of our NDC party under President John Mahama is as a result of arrogance and complacency. The President somehow turned into a dictator whenever we attended meetings. He trust Parliamentarians who are Northerners than other tribe."
It added: "Most of we the ministers have to pay monies before appointment or secure your position from reshuffle. I opted for Vice President position and that was the initial promise he made to me. He told the three Nzema constituency and Western Region that in his bid for second term in office, I will be his Vice. That was the more reason why I was made Petroleum Minister. I was one of the financiers in this election. I pray we reorganize ourselves and come again in 2016."
But Hon. Armah Kofi Buah who's also a Member of Parliament for Ellembele, in a statement described the said article as a vicious fabrication against his person intended to create disaffection for him.
"It is a complete lie and must be treated as such. I have not granted any interview with West End radio as has been circulated. I am proud of the achievements of the NDC led by president Mahama and firmly believe that President Mahama will forever be remembered not only for the great works but his hallmarks of bringing people together, humility, integrity and dedication. Ghanaians will shortly call for his return and I believe it will be shortly 2020."
The statement added: "I wish to categorically state under no uncertainty terms that West End Radio Morning Show has NOT granted any interview to Hon Buah. The show is yet to interview the Hon Minister, Mr Armah Kofi Buah, MP of Ellembelle.The Hon MP known as a decent gentleman will not even make such ridiculous and outrageous comments. The said article should be treated with contemp