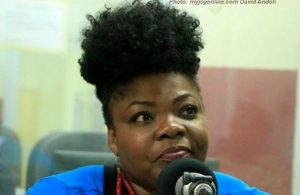 Gospel musician Celestine Donkor says as much as he has given her husband the freedom to do whatever he pleases, he should know that his manhood will be stuck in any lady he sleeps with.
According to her, there is a 'curse' that ensures that her husband, who doubles as her manager, will not be able to pull his manhood out of any lady he has sex with.
The 'Supernatural' hit singer told Lexis Bill on Behind the Fame on Drive Time on Joy FM that, "For him, I gave him the condition that, he can feel free but the thing will not come out."
Celestine has been married to Kofi Donkor for the past 12 years and they have been blessed with three beautiful girls.
In spite of that, she revealed that she "will forgive him" should he go that far to sleep with another woman.
Men of God want a piece of her
The singer interestingly revealed that she gets advances from Men of God, most of whom are married.
Asked what such advances mean to her, Celestine explained that they "make me see the human part of them; I don't see them as superhuman. It makes me think a lot about life.
"Some happen to be denied sex at home," she gathers when she tries to engage them in a conversation to try and understand why they are interested in her.
Such interactions, she noted, helps her ministry which leans towards dealing with marriage issues.
"People are human, pastors are humans too," the singer stressed. "Anyone can fall short. Everybody have their weakness," she added, insisting, however, that she does not think she creates room for them to come too close. yyy casino
According to her, "every human being have their weakness. Trust me, there are some people you see who are genuinely called, but they come to you with a proposal like that and you wonder what went wrong… it's something that is compelling them. Perhaps some environment or heat of their marriage at the time is pushing them," to do that.
Let's talk about sex
Celestine Donkor was not shy to talk about her preferences when it comes to sex. Asked to choose between sex in the shower or in the car, she was quick to pick the shower.
Interestingly, she wouldn't settle on a doggy style or missionary, rather she loves "Prayer". "You can't just worship without opening prayer," she explained. قرعة اليورو 2023
Recounting a romantic moment, the singer said, "I wanted to give my husband this wonderful day because he actually loves 'praying' a lot so I decided to organise a very powerful 'prayer' session…"
"So, I got some friends to help me prepare the atmosphere, it was a surprise… you can imagine all the candle [lights], wines, new curtains, bedsheets, I changed the position of the bed… How do you say, 'Eat me' in Twi? That was the inscription on the bed and in fact when he entered the room, he was blown away so much that he couldn't even perform," she concluded. عدد اوراق الدومينو