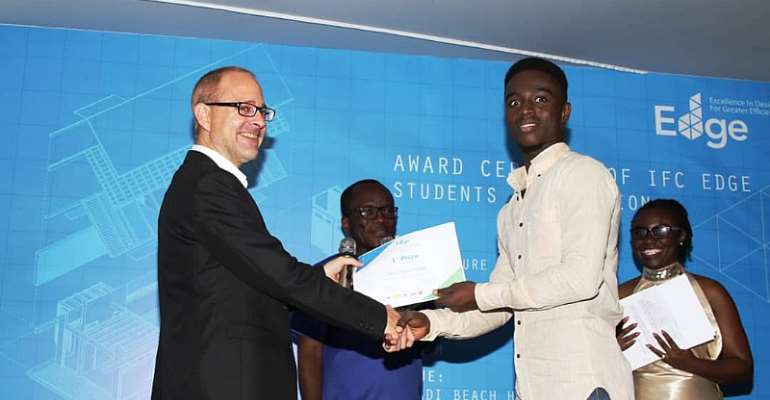 A 20-year-old architectural engineering student of the Central University, David Gifat Ampiaw, has emerged the topmost winner of the maiden IFC Students Architectural Design Competition organized by the International Finance Corporation (IFC). Olufemi Abodunrin and Cheryl Omani-Baah of the same institution emerged second and third place winners respectively.
For their prizes, each of them was presented with a ticket for an all-expense-paid trip to Cape Town South Africa for the Green Building Conference, an opportunity to receive a Free Edge Expert Training, as well as write Free Edge ideas, among others goodies.
All participants in the maiden competition – 20 in all, were selected from the architecture department of the Central University. The organizers are hopeful that subsequent editions would be opened to all architecture students in the country. At the awards presentation ceremony in Accra, all the participants of the competition received certificates of participation.
In a brief remark, Ampiaw expressed appreciation to his parents, lecturers and colleague students for their support and encouragement which according to him was the motivation that made him give out his best and eventually saw him winning the ultimate.
The objective of the IFC Students Architectural Design Competition was to allow participants to exhibit the simplicity of building green to impact the environment while improving building comfort and affordability. It was intended to support and enhance the study of sustainable and energy-efficient building practices in architectural education while offering architectural students the chance to discover the use of new materials and strategies for building and integrating beauty and technology for high-performing affordable architecture.
The tasks were for the students to design a stunning and cutting edge single-family home for a young family living at the outskirts of Accra using local materials. The home must fit on the standard plot size of 70×100 feet. They are to develop at least one innovation in design and construction using the EDGE software. A minimum savings of 20% must be made in energy, water, and materials, when compared to the local base case, among others.
According to the organisers, 20 students from Central University were selected to take part in the Competition, however, 18 attended the edge training, after which the competition was launched on July 18 this year. This gave students exactly four weeks to work on the project.
At the presentation ceremony, the Green Building Lead at IFC, Denise Quansah, expressed satisfaction at the opportunity to build the capacity of students' architects in Ghana as it will ensure that future generation of architects deliver the green buildings that are needed in Africa.
"We are excited about this gathering because green buildings are not only a challenge that we must all overcome together but because IFC believes that we have the solutions to provide to policymakers and that together we can create an opportunity for developers, financial institutions and the home buyers. Green buildings are meaningful to Ghanaians, they use less energy, they use less precious water and protect owners and residents from high utility bills. They create a more responsible brand for developers and redefines customer relationship. And they also retain their value over time," he stated.
IFC EDGE offers a faster, easier, more affordable way to build the brand green in more than 140 countries, including Ghana. EDGE includes software that helps to identify the most practical way of building green.
"EDGE is still young in Ghana but already, we have started making a difference. We have projects such as the Takoradi Mall, the new mother and baby unit at Okomfo Anokye Teaching Hospital in Kumasi, the new Terminal at Tema Port, the Atlantic Tower in Accra, all of these projects have been certified using EDGE, and there are more projects that would be announced very soon in Ghana," Denise added.
Mr. Matthias Feldmann, Chargé d'affaires Embassy of Switzerland of Ghana, Togo, and Benin who represented the Country Manager for SECO said: "What we need is to invest in people, and this competition is a way of investing in people."
During the launch of the competition in July this year, Program Manager, Environmental, Social and Governance Department at the IFC, Fatima Wane, remarked that through the EDGE program, the IFC has supported several governments to launch new green building codes, including Colombia, Indonesia, the Philippines, Vietnam, and Ghana.
"One of the pillars of IFC's strategy is to help mitigate climate change, one of our most ambitious areas of work is our green building program. IFC's green building portfolio has grown to nearly two billion dollars this year, which includes the direct financing of green building construction projects and mobilized financing," she stated.
She said "The EDGE program brings together architects, bankers, developers, and homeowners to prove that everyone wins financially by building green. EDGE is a software application, a standard, and a certification system, that together creates a refreshing new way to approach green buildings. The software is unprecedented in the world and can be used for free".