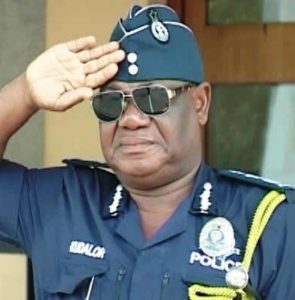 As the search for the new Inspector General of Police (IGP) continues, asempanews.com is reliably informed that President Akufo-Addo could settle on DCOP David Asante-Apeatu.
Knowledgeable sources say the president has had series of meetings with the top echelons of the Ghana Police Service and his security advisors and would soon instruct sitting IGP, DCOP John Kudalor to step aside.
Asempanews.com understands the search for the new head of the Police Service started in earnest two weeks ago and DCOP Asante-Apeatu's appointment was rubber-stamped this week.
DCOP Asante-Apeatu is intrigued by the possibility of steering the affairs of the police service, even though he reaches the retirement age next year, our source added.
Our checks revealed that top commissioners, including DCOP James Oppong, DCOP George Akuffo Dampare and DCOP Frank Adu Poku were all in contention for the topmost job in the police service.
DCOP Asante-Apeatu becomes the country's 23rd police chief if his appointment is officially announced.
Currently, the police administration has ten commissioners, but the president is permitted by the constitution to even appoint from the lower ranks.
DCOP John Kudalor was appointed by former President John Mahama in an acting capacity in November 2015 and was confirmed in February 2016.
The appointment of IGP has always been political since independence.