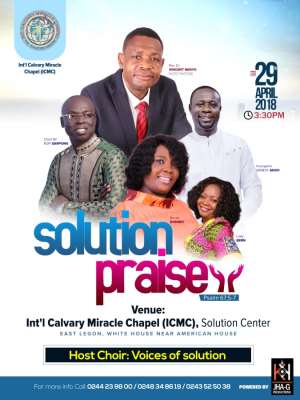 Praise is the rehearsal of our eternal song. By grace we learn to sing, and in glory we continue to sing. What will some of you do when you get to heaven, if you go on grumbling all the way? Do not hope to get to heaven in that style. But now begin to bless the name of the Lord.
Yes! We are ready to seek for solutions to all our challenges from the Most High, as we walk to Him with thanks and praise at this year's 'Solution Praise' which is schedule to take place at the Int'l Calvary Miracle Chapel (ICMC), Solution Center at East Legon, White House near American House, on Sunday, April 29, 2018.
Speaking to the head pastor of ICMC and host of this year's Solution Praise, Rev. Dr. Vincent Nenyo has promised a highly spirited encounter results in an abundant and overflowing life from our Savior, the Lord Jesus Christ, after the event. And has called on all believers to come and experience the beauty of Christ and the fruit of the Spirit.
The event would be graced with song ministration from multiple award-winning Gospel musician, Chief Superintendent Kofi Sarpong, the sensational Becky Bonney, Evan. Ernest Addo, Lady Bern and a host of others.
The musicians have assured patrons of another level of praise and worship, as they are ready to treat patrons to beautiful renditions of both local and foreign worship and praise songs.
Solution Praise is a free to attend event and it's expected to host hundreds of believers this Sunday. Be part of this historical event.